Custom Shade Sails Offer UV Protection for Outdoor Spaces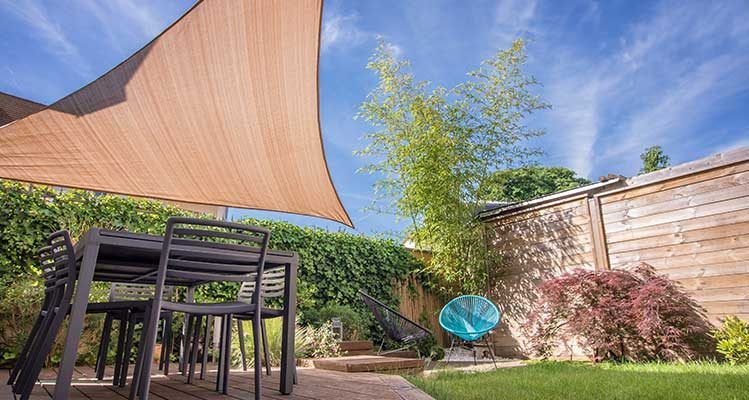 Extending living spaces to the outdoors continues to be one of the hottest trends in home building, and custom shade sails provide the protection we need from harmful UV rays. There is a long-standing tradition of spending quality hours with friends and family in backyards across America. We love to barbecue, swim, and here in Central Oregon, play a game or two of Cornhole. A patio forms an area distinguished from the rest of the backyard but should also blend into the yard as well as your home's architecture. While there are several approaches to designing and building pool and patio covers, none offer the flexibility and low maintenance of custom shade sails.
Types of Custom Shade Sails
Custom shade sails for patios are durable, easy to maintain, and don't require the expensive lumber materials needed to build pergolas and other shade structures. Simply install a sail shade pole into the ground and attach sail sails with hardware fasteners. Before winter arrives, unhook the cloths from the poles for winter storage.
Custom shade sails typically come in three shapes: triangles, rectangles, and squares. Architects, builders, and homeowners can work with BTL Liners directly to design commercial-grade shade sails in custom sizes for various applications.
Materials are available with 44%, 50%, and 60% percent UV
Shade cloths provide UV blockage to reduce chances of sunburn
Pool and patio covers regulate outdoor temperatures by creating shaded spaces during the hottest times of the day
Customs sails are frequently designed and installed as part of passive solar building design to reduce heat gain from the sun
Cloth materials are durable, easy to maintain and more economical than building structures from wood or aluminum
Custom shade clothes not only add functionality to your backyard design but they also make outdoor living areas more inviting to guests
Shade sail installations are ideal for everything from pools and ponds to garden beds and decks
Whether the temperature outside is 95 degrees, or the clouds roll in for a weekend afternoon thunderstorm, custom shade sails like those designed by BTL Liners are an effective way to protect families and guests from the elements.
Control Outdoor Living, Recreational, and Entertainment Spaces
The ease and flexibility of shade canopies provide a real benefit for all types of buildings and businesses. Parks and recreations departments and restaurants and hotels install custom-sized sails to shade their guests and create more welcoming safer environments.
Architects and green builders frequently design custom commercial shade cloths to use with dark patio surfaces. Stained and stamped concrete in darker tones absorbs heat, which works well in winter months. During summer, custom shade sails are refastened to strategically placed poles to create cooler spaces.
Shade structures reduce harmful UV rays that cause skin cancer
With warm weather coming, it's time to think about adding sun canopies designed to protect families and guests from the harsh rays of the sun. Skin cancer awareness and prevention has become an important topic both locally, nationally, and abroad. Global warming and the thinning and widening of our ozone layer makes it essential to practice sun safety.
Fortunately, there are great solutions to minimize sun exposure, while enhancing the look of outdoors spaces. BTL Liners has been crafting UV filtering, high-quality, high-strength RPE and reinforced polypropylene shade covers for more than 35 years. The versatility of BTL Liners is that their shade cloth materials can be used for a multitude of applications.
Of course, UV protection is not the only reason to utilize sail cloths in backyards. BTL high-quality mesh fabrics are ideal for projects requiring less UV filtering. These versatile liners can be custom fabricated by BTL right here in Central Oregon, for your new home construction or remodeling project.
Aqua

Armor Pond Liner

The most versatile liner on the market today,

Aqua

Armor maximizes protection from harmful UV rays, tear resistance and punctures that cause leaks. Simply the best liner on the market.
Newest Articles: