Airport Deicing Liners Improve Storage of Chemicals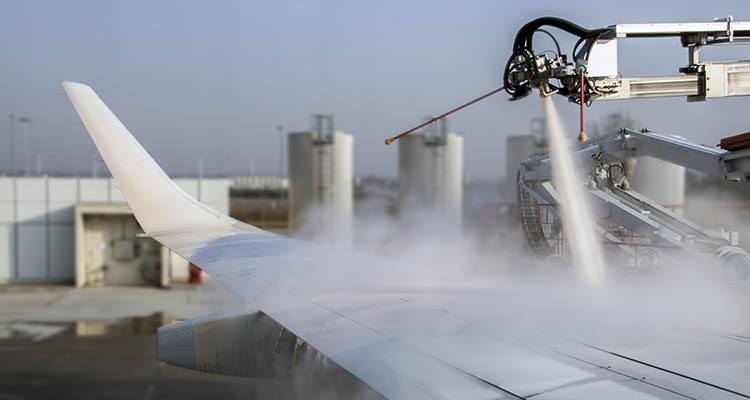 Deicing operations at airports have long been seen as detrimental to the environment when it comes to the decomposition of glycol runoff. Airport deicing liners can help protect the environment and improve the collection and storage of these chemicals. When separated, glycol used in airport deicing operations can be reused and the water returned to the city sewer system. By creating an advanced deicing facility with quality liners and covers, chemicals can be reused and the environment can be protected, making it a winning solution.
Airport Deicing Liners
Airport deicing liners help prevent propylene glycol from making it's way into the subsurface soil and groundwater, two very important resources to protect. Airport deicing liners can be used in ponds to collect the runoff, or under a diversion collection system of concrete pipes and trenches. The airport size and location may be determining factors in choosing which method of containment should be used for airport deicing operations. Depending on the location and size of the airport, there are several options available for glycol runoff containment, storage and recycling. Often, a combination of pads, ponds or tanks using airport deicing liners and floating covers will be used for the implementation of aircraft deicing fluid containment. The addition of floating covers is beneficial, as it helps control odor and protects waterfowl from open ponds, tanks and pads. As the the size of the airport and the amount of glycol being used for deicing dictates the size of the system needed, prefabricated panels may be the best option when it comes to shipping and installation. Panels prefabricated in a geomembrane facility can be helpful, especially for large square footage projects. Larger panels allow for fewer seams, which helps protect the surrounding eco-system and makes for an effective method of airplane deicing fluid containment. Airport deicing liners are the first step in treating glycol runoff and protecting the environment, as well as airline passengers and airport staff. Airport deicing liners must be durable, strong, puncture resistant, UV resistant and corrosion resistant. BTL Liners offers a variety of options for airport deicing liners. Contact BTL Liners for more information about airport deicing liners and floating covers.
Aqua

Armor Pond Liner

The most versatile liner on the market today,

Aqua

Armor maximizes protection from harmful UV rays, tear resistance and punctures that cause leaks. Simply the best liner on the market.
Newest Articles: