Backyard Water Gardens & Koi Ponds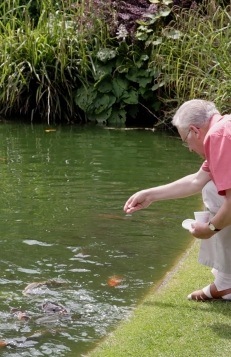 We are planning to create a water garden & koi pond in our backyard this summer. What recommendations do you have for planning and lining our pond? — Mary H. Mary, we are sure you'll enjoy the process of setting up your very own water garden, not to mention the wonderful benefits you'll enjoy when it's completed! While there are plenty of sources that discuss design, maintenance and construction of ponds and water features, there are some specific points we'd like to emphasize: One of the most common complaints we hear from new water gardeners is that they feel their pond is too small. Remember that a small pond limits the number of fish and plants you can add, while a larger pond is actually more stable and easier to maintain. Selecting the right liner is just as important as site placement and design. Depending on the type of liner you choose, long-term maintenance can be difficult, and updates to the pond can be nearly impossible! Preformed pond liners offer very little versatility with regard to depth, shape and placement of features. Due to the nature of preformed plastic pond liners, they are likely to crack over time, especially if they are not properly supported underneath. Also, many rigid pond liners are simply too shallow to allow for proper temperature regulation, especially if you intend to keep fish within your pond. Another popular choice for pond liners is EPDM rubber. While it is flexible and safe for fish and plants, it is expensive and prone to tears and leaks. BTL's liners are ideal for all sizes of fish and garden ponds—even golf course ponds and recreational fishing ponds. Our reinforced polyethylene or polypropylene liners are specifically designed to be fish and plant safe, are highly UV-resistant, puncture and tear resistant, are lightweight, easy to install and less expensive than comparable alternatives. Determine the size and shape of pond that you like by placing a hose or rope on the ground and "designing" your space. To establish the liner size you'll need to order, measure the greatest length and width of the pond, add twice the maximum depth to both measurements, and add about 2 feet on each side for overlap and anchoring. This will give you the final dimensions of your pond liner. If you are adding a new liner in an existing empty pond, drape your tape measure along the bottom of the pond for an accurate measure. For additional help in calculating the amount of liner needed, go to http://btlliners.com/how-to-measure-a-pond/. Mary, please call us at 800-280-0712 if you have any questions! Please consider sharing pictures of the construction process and finished product with us. We love to see the wonderful outdoor spaces our customers have created!
Aqua

Armor Pond Liner

The most versatile liner on the market today,

Aqua

Armor maximizes protection from harmful UV rays, tear resistance and punctures that cause leaks. Simply the best liner on the market.
Newest Articles: