Three Factors that Determine the Best Insulated Floating Covers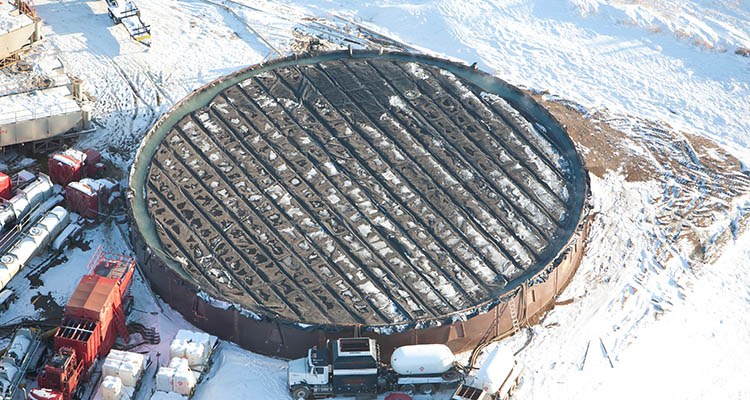 Insulated floating covers help retain heat in ponds, lagoons and tank systems. This is especially important when the environmental temperature differs significantly from the pond or tank. In certain applications, insulated floating covers can be used to shield wastewater from sunlight and to prevent algae blooms. When it comes to choosing the best insulated covers, several key factors come into play. Depending on the application, some factors may take a higher priority than others. For example, insulated floating covers for frac tanks may require more chemical resistance than those used to cover wastewater lagoons.
Choosing the Best Insulated Floating Covers
Three factors that influence your decision when searching for the best insulated floating covers include insulation thickness, chemical resistance and puncture resistance.
Insulation Thickness
In addition to determining the thickness of the geomembrane itself, insulation thickness must be decided on when designing the best insulated floating cover for your application. Consulting with an engineer or floating cover professional can help determine the correct thickness for the project. Insulation thickness, in the form of foam welded between two sheets of geomembrane, helps the water in the tank or pond retain heat, which can also ease the degradation of waste materials and help prevent evaporation.
Chemical Resistance
In order to protect the insulation itself from degradation by chemicals in the tanks and ponds, it's important to choose geomembranes with chemical resistant properties. Reinforced polyethylene (RPE) and reinforced polypropylene (RPP) materials both have chemical resistant properties, which make them excellent choices for insulated floating covers. Chemical resistance is an important factor for the energy sector.
Puncture Resistance
Puncture resistance must be a priority when choosing the material for floating covers. Floating covers can potentially be punctured by wildlife, job site equipment and human error. Because many floating covers can be walked across, puncture resistance is important. Choosing the right material and the right thickness go hand-in-hand when determining the best insulated floating covers for the project. Both RPE and RPP are at the top of their class for puncture resistance when it comes to geomembranes for insulated floating covers. Many factors go into choosing the best material for insulated floating covers. These three elements play a large role, but we know there are more. What do you consider when choosing the best floating covers for your industry? Share with us in the comments!
Aqua

Armor Pond Liner

The most versatile liner on the market today,

Aqua

Armor maximizes protection from harmful UV rays, tear resistance and punctures that cause leaks. Simply the best liner on the market.
Newest Articles: