BTL Featured in Cascade Business News January 20th Issue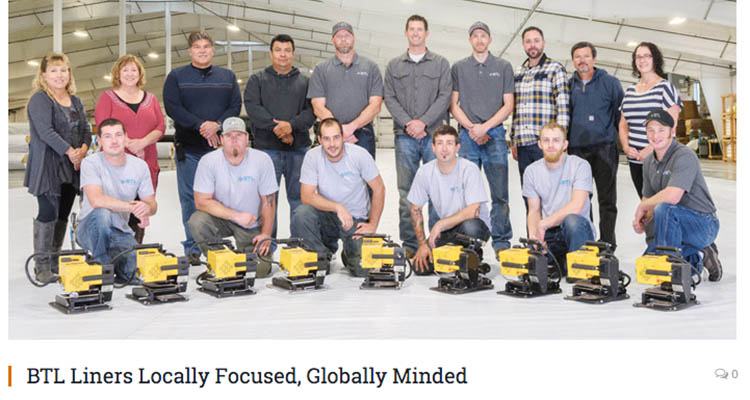 It's always exciting for BTL Liners to be featured in the press. We're pleased to announce that we've been profiled in the January 20, 2016, issue of Cascade Business News, a local, semi-monthly business news publication for Central Oregon. The article touches on our outreach in the local community as well as our predictions for global sales in the coming year. At BTL, we're proud to be part of the Crook County, Prineville and Central Oregon communities. From golf tournament sponsorships to donations to local schools, we believe BTL helps make the community stronger. We don't take our Central Oregon home for granted and firmly believe in bringing up the economy in our home town. BTL recently partnered with Bend-based digital marketing agency Savy Agency for our rebranding and ongoing marketing efforts. We're glad to be working with a local partner in our community to increase our outreach both at home and worldwide. BTL's Vice President and General Manager, Jared Santoro, spoke with Cascade Business News about the new partnership with Savy, our company's rebranding, as well as our philanthropic and community involvement.
BTL Community Involvement
The article in Cascade Business News highlights our passion for community involvement, including:
Support of Crook County High School, including the athletic department
Crook County Chamber of Commerce
Contributions to the Eastmont Community School
Involvement with Economic Development for Central Oregon (EDCO)
Involvement  with Court Appointed Special Advocates (CASA) of Central Oregon
Donation of materials to various children's summer camps and the Ochoco Irrigation District
Here at BTL we have a bright and shining outlook for 2016. From our continued community outreach programs and strong local partnerships to strong sales projections across the globe to our refreshed branding and new website, we're excited to see what this year has to bring. We're ecstatic to share our passion with Cascade Business News and are humbled by the recognition.
Aqua

Armor Pond Liner

The most versatile liner on the market today,

Aqua

Armor maximizes protection from harmful UV rays, tear resistance and punctures that cause leaks. Simply the best liner on the market.
Newest Articles: