BTL's Liners Awarded Potable Grade Certification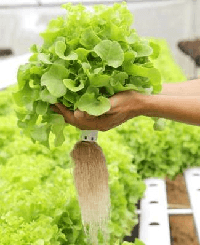 We're pleased to announce that all BTL and PPL polyethylene products are now potable NSF-61 certified! Potable grade is the highest rating a liner can receive—it means our liners are approved to be used to hold drinking water intended for human consumption. The process of certifying BTL's products as NSF-61 compliant took about 6 months to complete. It's an internationally recognized certification that assures that these liners will not leach harmful substances such as plasticizers and dispersants, which are commonly used to make liners more flexible (it's also what gives you that "new car" smell). PVC and EPDM liners are particularly likely to leach these chemicals.
Commercial aquaponics. Image courtesy of aquaponicsplan.com Hydroponics and aquaponics operations as well as organic farmers prefer to use potable water in all their processes, both before and after harvest, to ensure that their product remains uncontaminated. We've always stated that BTL's liners are fish & plant safe, but with this certification we feel our organic and hydroponics customers will be even more confident when they install our liners. Here at BTL, we're enthusiastic about the advantages our certification offers for a variety of water containment uses, from hydroponics and organic farmers to irrigation reservoirs. In fact, we're already preparing to install our RPEL-30 as the primary liner in a large hydroponics and organic lettuce operation. If you have questions about how potable-grade liners can benefit you and your water containment needs, give us a call at 541-447-0712 and speak to one of our experts!
Hydroponically grown lettuce. Image courtesy of hydroponics-simplified.com
Aqua

Armor Pond Liner

The most versatile liner on the market today,

Aqua

Armor maximizes protection from harmful UV rays, tear resistance and punctures that cause leaks. Simply the best liner on the market.
Newest Articles: