BTL's RPEL-30 Liner Ideal For Drought-Stricken Farms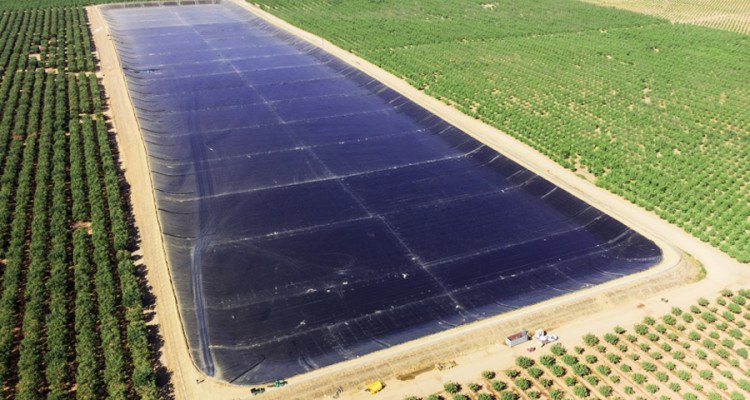 Prineville, OR (PRWEB) March 25, 2015
BTL Liners has introduced a reinforced polyethylene liner with high tolerance for sustained UV exposure—RPEL-30. RPEL-30 is ideal for use in situations in which water levels are expected to vary, such as irrigation ponds for drought-stricken farms. BTL offers a full 20 year warranty for exposed use, which is unique in the industry and promises a dependable solution for farmers, ranchers and other industry professionals who require durability, ease-of-use and cost-effectiveness. In times of moderate to extreme drought, irrigation ponds and surface water storage systems are particularly vulnerable to repeated and sustained exposure to sunlight and air as water levels rise and fall. Exposure to the elements can result in significant damage from punctures and tears that may cause leaks and lead to costly repairs.
BTL's 84,000 square foot facility permits fabrication of the industry's largest panels, thereby reducing seams, easing installation and increasing durability.
Typically, RPE Liners must be submerged under water or covered with several inches of earth, since exposure to both oxygen and UV radiation can break down the polymers over time, leaving liners weak and brittle. In response to a growing need to accommodate conditions that include regular exposure, BTL Liners has introduced this pioneering polyethylene laminate. Building on their proprietary BTL-24 liner, they've added an additional 6 mil of UV resistant film, creating the RPEL-30. RPEL-30's UV protection is so substantial, BTL Liners offers a 20 year exposed warranty, which is unheard of in the industry. "We are excited about the unique properties of our RPEL-30 because it provides a level of protection that's never been offered before," said Brad Elliott, Director of BTL Liners. "We expect it will soon become the de facto liner of choice in projects where exposure is a risk." One of the first installations of the RPEL-30 Liner was for a 40-acre (1.6 million SF) irrigation reservoir in drought-stricken California. This exceptional material was flexible, durable and lightweight enough that the entire reservoir was lined and welded in only four days! "This reservoir will be used for irrigation, which means it will be repeatedly exposed throughout the year as it is drained," explained Jared Santoro, BTL's VP and General Manager. "Our product is the ideal answer to a situation like this, where the performance of other lining materials would be less than optimal."
BTL's record-breaking RPEL-30 installation consisted of a 40 acre irrigation reservoir surrounded by trees, installed in only 4 days.
BTL's Record-Breaking Irrigation Reservoir
RPEL-30 is particularly well suited for applications where the fluid levels are expected to fluctuate substantially over time. Lined projects such as dams, canals, fire retention ponds, wastewater containment, irrigation ponds and lakes, stormwater detention and retention facilities, stock water tanks and other surface water storage applications all demand the flexibility and durability that BTL Liners' RPEL-30 provides.
RPEL-30 spec sheet
Landowners and managers interested in learning more about BTL Liners' RPEL-30 and other reinforced polyethylene liners can visit www.btlliners.com or contact project experts at 541-447-0712.
About BTL Liners: BTL Liners is an industry leader in heavyweight reinforced polyethylene (RPE) geomembrane liners—creating about 50 million square feet of BTL™ and PPL™ liners annually. With facilities to produce the largest panels in the industry (in excess of 150,000 square feet), and turnaround times typically within 24-48 hours, BTL Liners designs, fabricates and constructs the world's most durable, dependable custom containment systems.
Aqua

Armor Pond Liner

The most versatile liner on the market today,

Aqua

Armor maximizes protection from harmful UV rays, tear resistance and punctures that cause leaks. Simply the best liner on the market.
Newest Articles: