BTL's State-of-the-Art Fabrication Facility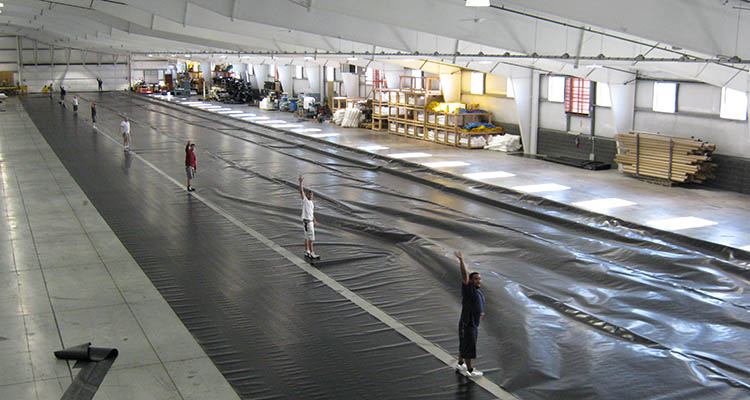 At BTL Liners, we're proud to offer high quality liners, tarps and covers, all fabricated at our state-of-the-art facility in Prineville, Oregon. Unlike many of our competitors, our facility was designed and built specifically for us to fabricate a variety of geomembranes. With our 84,000 square foot facility, we can create the largest panels in the industry at 150,000 square feet, which gives us a distinct advantage. Our welding and fabrication facility allows us to not only compete nationally, but internationally, as well.
Geomembrane Fabrication Facility
Previous to upgrading to our current home, BTL began in a 6,000 square foot facility in the early '90s. With the success of the reinforced polyethylene (RPE) liners we were able to expand to our current home, an 84,000 square foot state-of-the-art welding and fabrication facility in 2007. Advantages of our facility include:
The ability to make the largest panels in the industry at 150,000 square feet
Fewer seams - one every 350 feet rather than every 20
Fast turnaround times
Space to create quality geomembrane products
Immaculate quality control
Specially designed specifically for geomembrane fabrication
Benefits of Pre-Fabricated Geomembranes
Our state-of-the-art fabrication facility gives us plenty of space to pre-fabricate liners in large sizes. There are many benefits to pre-fabricating large liners in a facility before installing in the field. For extra large projects benefit from pre-fabrication because in addition to the largest panels in the industry, when installed in the field seams are only required every 350 feet, rather than every 20 feet. Prefabrication is more efficient and more convenient for shipping and installation. Our state-of-the-art facility allows us to pass on the benefits of prefabrication to our customers. We're proud of our beautiful facility and the team we're assembled in beautiful Central Oregon. For more information about how prefabricated liners, tarps and covers can benefit your geomembrane project, contact us. We look forward to hearing from you!
Aqua

Armor Pond Liner

The most versatile liner on the market today,

Aqua

Armor maximizes protection from harmful UV rays, tear resistance and punctures that cause leaks. Simply the best liner on the market.
Newest Articles: