How to Build and Stock a Fishing Pond for the Summer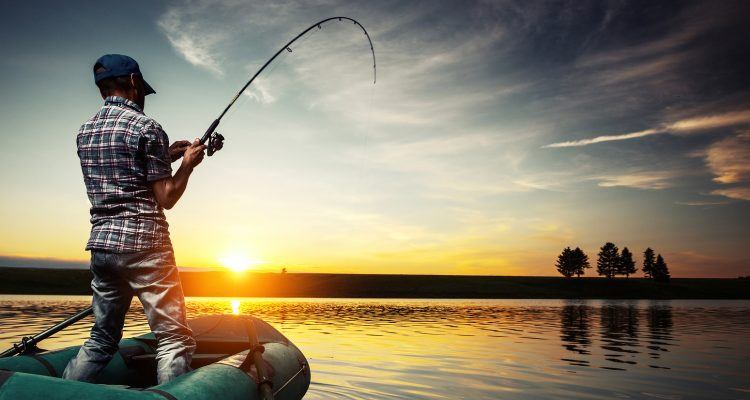 Fishing is one of the best ways to enjoy the summer sun. Thankfully, you don't have to drive to the nearest lake when you have a fishing pond stocked and ready in your own backyard. Learn how to build a fishing pond, how to keep it stocked for the summer, and the costs based on your needs.
How To Build A Fishing Pond
Decide on Pond Size:
Much like building any other water feature in your backyard
,
the first step is scouting out space for it. You'll need at least half an acre of land where 25% is at least six feet deep, though there are many ponds that cover as much as 5-6 acres or more. Consider is the size of your watershed. In general, you'll need about five acres of watershed for every one acre of pond surface.
If you have a lot of acreage to choose from, keep in mind that "it's always best to move the least amount of dirt to the spot where that earth can back up to the greatest amount of water," according to Dan Russell, an expert on pond building for
Mother Earth News
.
Get Appropriate Permitting:
Depending on the size of your pond, you may need to get local, state, or federal approval. This is where a certified pond consultant comes in. For a free consultation on how to build a pond that will take into account rainfall, soil types, dam construction and, therefore, the feasibility of a pond, contact the technicians at your local office of the
Natural Resources Conservation Service
, a division of the U.S. Department of Agriculture.
The pond savants there will advise you on the size of dam necessary and whether enough soil of the right density is present to build one. Getting the input of the NRCS—essentially their vote of yea or nay—is a crucial stepping-stone to cross before reaching the next couple of stages: first the permitting process through governmental agencies, then the solicitation of contractors to bid, excavate, and build the pond.
Build A Dam:
Once you've staked out the location and have approval from any regulating bodies, you are ready to break ground. To keep water from leaking, the earth around your fishing pond needs to be "dammed," or banked, to reinforce the edges of the water.
If your soil is predominantly clay, you'll have no problem building an earthen dam that can keep the water in. However, some soils are too porous for the construction of an earthen dam. If that's the case, you may have to cart in clay soil to make it work.
Dig trenches along the "bank" of your pond. They should be deeper than the depth of the pond. Then, for a watertight seal, line your trenches with
dam liners
before filling them with clay up to the surface level of the pond.
Seal The Pond:
Once you've sealed the sides of the pond, you'll also need to seal the bottom of the pond. This means lining the pond floor with overlapping layers of
pond liners
and clay soil to keep the water from slowly leaking out over time.
Use our calculator
to determine the size of the liner you'll need.
How to Stock Your Fishing Pond
Decide On Fish Species:
When you're first starting out, you're going to want to go to a hatchery to get your fish and their food. A combination of largemouth bass and bluegill at a recommended ratio of 100 bass per 400 bluegill per surface acre are the most popular pond fish, though catfish may be added at 50 fish per surface acre to cull the bluegill population as it grows.
The most important thing to consider when stocking and restocking your pond is the balance between predator and prey. If you catch too many predators, the prey may multiply too much resulting in an excess of smaller fish. If you catch too many prey fish, the predators won't have enough to eat and you'll have an excess of smaller fish.
To avoid this, don't fish from your pond in its first year of use. After your pond has had time to grow, try to catch equal weights of predator and prey fish. If you're catching too many of one kind of fish, your pond may fall out of balance.
Add An Aeration System:
Aeration helps keep your pond clean, improves water quality, boosts oxygen levels, and circulates the water to avoid temperature variation that could harm the health of your pond and the health of your fish.
How Much Does It Cost?
Fishing ponds can vary greatly in price. Some build smaller ponds, dig their own trenches, and only pay for materials such as tarps, liners, and an aeration system. These ponds can cost anywhere from a couple of hundred dollars to a couple of thousand dollars.
Large ponds may require extensive excavation, pond consulting firms, and industrial excavation equipment. These ponds can cost anywhere from a couple of thousand dollars to $75,000.
If you're interested in building a fishing pond in your backyard, BTL Liners would be happy to walk you through the process and help you spec out what materials you might need.
Contact us
to learn more about the liners, tarps, and systems you need to build a fishing pond in your backyard.
Aqua

Armor Pond Liner

The most versatile liner on the market today,

Aqua

Armor maximizes protection from harmful UV rays, tear resistance and punctures that cause leaks. Simply the best liner on the market.
Newest Articles: