California Drought Intensifies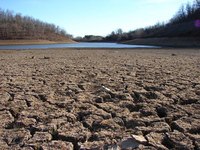 An Intensifying Drought The news for California citizens, farms and industries continues to worsen as the drought enters its fourth year. The state's "wet season" typically runs from December to February, and while there were some stormy periods in December and February, January was the driest on record. In fact, in most of northern and central California, rainfall in 2015 has been less than 2% of normal. To make matters worse, those brief storms only gave a temporary recharge to surface water reservoirs—there was no corresponding increase in the Sierra snowpack due to abnormally high temperatures in those areas. Now, at the beginning of April, snowpack is only 5% of normal levels. This is extraordinarily bad news for an area that supplies more than 60% of the state's water resources. The situation is so dire that Jay Famiglietti, Senior Water Scientist at NASA's Jet Propulsion Lab, recently warned that there is only 1 years' worth of water left in California's reservoirs and that groundwater is rapidly disappearing. This is not a short-term trend—surface water storage has been continually declining at least since 2002, when measurements began, and groundwater depletion has continued for a century.
The Ramifications As the crisis worsens, the state government must begin to consider several hard questions, one being this: will it be forced, in the near future, to take water away from farms and direct it to the public to cover basic health and sanitation needs? California produces nearly half the produce and nuts consumed in this country and exports still more. Last year, farmers let 400,000 acres of cropland lie fallow, and this year it will be more than a million. During former droughts, when the major crops in California were cotton and wheat, the state was able to redirect water from farms to cities with no long term effects. Currently, most land is used to grow pistachios, almonds and wine grapes, which require water year to year. If water were redirected now, it would decimate the state's agricultural industry, not to mention the revenue and economic implications. In fact, drought is one of the major stressors that contributes to the pattern of small, family-owned farms being absorbed into huge agribusinesses.
A Stitch in Time Those farmers who are being forced to fallow their lands understand that they can't assume that there will adequate rainfall on a yearly basis. Conversely, it would be a mistake to assume that too much rainfall won't be an issue. Since planning ahead is more efficient than responding in crisis mode, anyone whose livelihood depends on dependable rain is wise to begin developing and implementing specific strategies. Dependency on water involves many business segments, including the following:
farming, ranching, rural communities, vendors
municipal water suppliers
wildfire managers
environmental organizations, advocates and agencies
public health specialists
hydropower producers
industry, including producers of biofuels
tourism and recreation operators
state, local and tribal governments, and any regional resource management entities
What can be done to reduce long-term vulnerability to drought? Possibilities include rainfall harvesting and improved water storage facilities. Other options include developing and planting crop types that are less susceptible to water stress, implementing improved irrigation techniques, diversifying plantings so that some lands can lie fallow without irreparable economic harm, and more. And what happens if someday the rains return? At that point, all parties would need to be prepared to manage a surfeit of rain—perhaps even violent storms and flooding. Comprehensive plans that are designed to manage stormwater events, to prevent erosion and to preserve water quality can work hand-in-glove with drought management strategies that divert, detain and retain water for use in drier times. BTL Liners has over 34 years of experience providing water storage and containment solutions. Our reinforced polyethylene (RPE) liners are lightweight, strong, UV-resistant and available in the industry's largest prefabricated custom size panels. In most cases we can fabricate and ship within days of order placement. Visit us at www.btlliners.com, call us at 541-447-0712 or email
info@btlliners.com
for a consultation with one of our experts about your water storage goals and objectives.
Aqua

Armor Pond Liner

The most versatile liner on the market today,

Aqua

Armor maximizes protection from harmful UV rays, tear resistance and punctures that cause leaks. Simply the best liner on the market.
Newest Articles: