Can Irrigation Reservoirs Save Our Farms?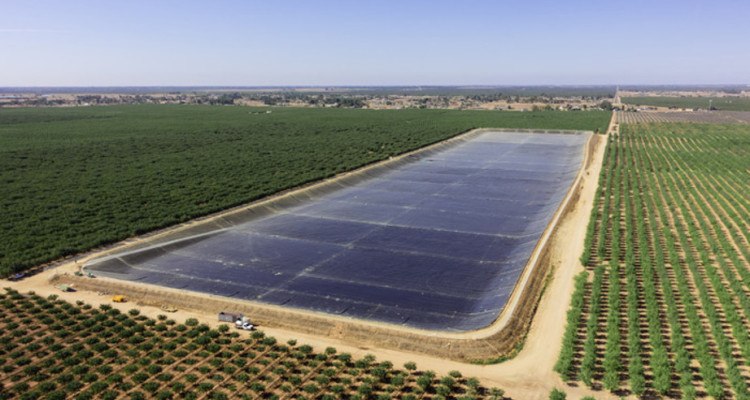 Ponds are a common sight on farms and ranches across the country, and are usually used for stock watering, fish farming, or simply landscape beautification. Farmers and ranchers are beginning to view these traditional features in a new light today, as modern agriculture practices and the mounting effects of climate change require them to consider new options for providing water to thirsty crops and livestock. In the last decade, severe droughts in the Southeast and the Midwest have resulted in billions of dollars of crop losses. Across the Western US, from southern Texas to the northern Rockies, communities are facing record-shattering droughts on an historic scale. In California, where the winter rains have failed to appear year after year, reservoirs have emptied and wells have run dry. Today, much of the central and northern parts of California are under exceptional drought conditions, which means "exceptional and widespread crop and pasture losses, fire risk, shortages of water in reservoirs, streams, and wells that yield water emergencies." (www.drought.gov)
This image of Folsom Lake, northeast of Sacramento, California, shows the lake at 97% capacity in 2011 vs. only 17% in January of this year. A new water year began in October and promises to be among the driest yet. As climate change continues, problems will continue to mount. Over the long term, the Southeast is likely to experience heavier rains, but with long dry spells in between. In the Midwest, total rainfall is likely to increase, but not during the critical summer growing season. In California, New Mexico and Arizona, the specter of a megadrought lasting 35-100 years or more is now being contemplated. In many areas of the country, farmers have traditionally relied on public water infrastructure, including reservoirs to store and provide irrigation water whenever needed. However, as the use of irrigation has intensified over the last century, the resulting pressure on local supplies has become unsustainable in many parts of the country. Now, of course, the problem is vastly compounded by drought. In fact, across the San Joaquin Valley in California this year, some farmers and ranchers received a 0% water allocation from regional water projects. Compounding the problem, as water tables fall, creeks and streams will lower even if no water is removed from them. This creates a ripple effect of environmental and habitat issues, fire risks and more.
Today in California, water for local vineyards is available largely through use of irrigation ponds. As they have contemplated the effects of all these factors, an increasing number of farmers and ranchers are opting to construct irrigation ponds on their property in order to collect and store any available rainwater and for eventual use as flood control. Ponds constructed with an impermeable liner prevent the loss of precious rainwater which would otherwise seep into the ground, allowing the farmer to draw from their own supply during the most critical parts of the growing season. Ponds can also assist in flood control by slowing and retaining the flow of water through a watershed. Especially in areas where the rainfall is expected to be heavier but less frequent, a distributed network of ponds could help manage peak flows and reduce flooding. Besides capturing scarce rainwater, farmers can also construct tailwater return flow ponds. Tailwater is essentially agricultural wastewater—the excess water that runs off the field at the low end. By capturing this water in a pond and allowing sediment to settle out, farmers can essentially recycle their irrigation water.
BTL Liners installed this 40 acre irrigation reservoir this October in just 4 days! Closely managed irrigation techniques, including drip irrigation, deficit irrigation and capture of agricultural tailwater, along with the construction of a carefully planned series of ponds, can make a significant difference in a farm's overall water usage, and potentially enable it to survive and even prosper during periods of drought. BTL Liners has significant experience in constructing irrigation reservoirs and farm ponds across the United States and around the world. Our unique ability to create the largest panels in the industry allows us to cover large areas with the fewest seams, thereby speeding up installation time and improving the performance of the liner as a whole. Recently, we lined an enormous 40 acre irrigation reservoir in only four days! To find out more from our experts on farm ponds, irrigation reservoirs and agricultural wastewater reclamation, call us at 541-447-0712 or visit us on our website at www.btlliners.com! Image Attributions: image 1: www.businessinsider.com image 2: www.gettyimages.com image 3: BTL Liners
Aqua

Armor Pond Liner

The most versatile liner on the market today,

Aqua

Armor maximizes protection from harmful UV rays, tear resistance and punctures that cause leaks. Simply the best liner on the market.
Newest Articles: