Take Advantage of Commercial Water Features and Their Benefits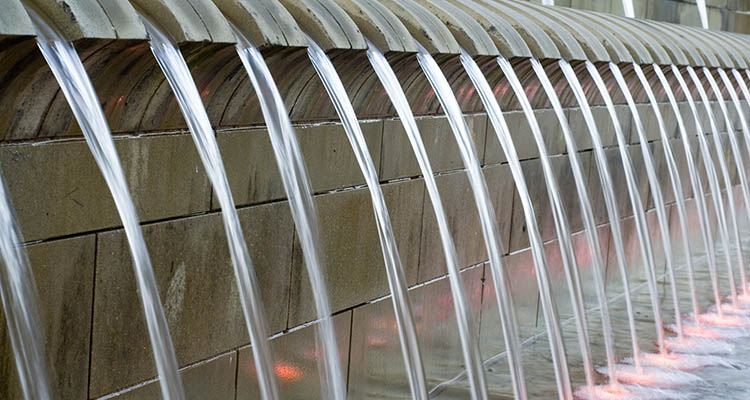 Commercial water features have a variety of benefits associated with them, which makes them a highly desirable addition to any business. Consider these advantages to installing commercial water features on your property.
Benefits of Commercial Water Features
Create a great first impression with potential customers and guests to your business. Water features create a soothing environment that's comfortable for guests visiting your company.
The sound of running water is often used to promote relaxation - Sitting near commercial water features can be a great way to relax and reduce stress after a long day of meetings.
Create added interest in your property with a water feature as the focal point of your landscaping.
Provide sound and movement to and otherwise still area. This addition gives your business character and definition that comes from the flow of water.
Add property value. Commercial water features can often increase your real estate value and investment up to 20%. Water features add to the landscaping and curb appeal of your business, adding property value.
Attract native wildlife to your property. By adding commercial water features, you can draw in songbirds and other wildlife to your property. Adding a living element to a pond, like koi fish, gives your environment an extra dimension of intrigue.
Through relaxation you can lower blood pressure, improve mental and physical health. Adding commercial water features can result in a healthier you thanks to the soothing sights and sounds that come along with them.
There are many benefits associated with water features, from the increase in property value to healthier, more relaxed employees. One of the greatest advantages to installing water features is the connection you'll make with potential clients. Not only are well-designed water features aesthetically pleasing, they also act as a great ice breaker with new and potential clients. At BTL Liners, we can help you learn more about the liners necessary for your commercial water features. Add value to your business with the addition of water features using garden pond liners from BTL Liners.
Aqua

Armor Pond Liner

The most versatile liner on the market today,

Aqua

Armor maximizes protection from harmful UV rays, tear resistance and punctures that cause leaks. Simply the best liner on the market.
Newest Articles: