Common Applications for Geomembrane Liners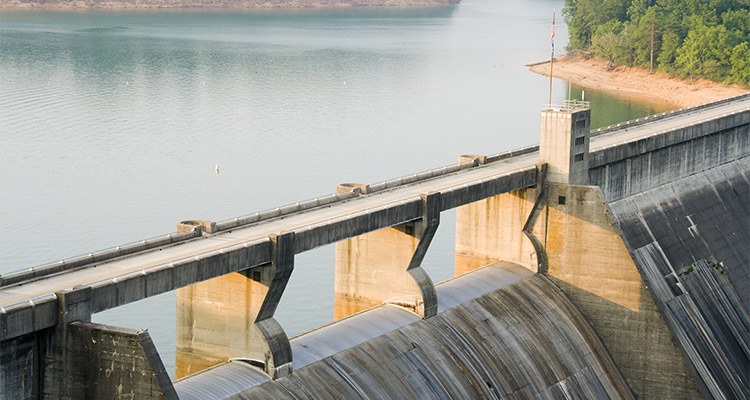 With BTL 30, and our line of geomembrane and specialized geosynthetics, BTL Liners has developed the most durable, dependable secondary containment systems available – and also some of the most multipurpose. With dozens of applications for geomembrane liners possible, let's look at some of the most common.
Agricultural
Agricultural applications for geomembrane liners are numerous and can overlap into other sections, including lagoons, irrigation ponds and canals. These applications can go far beyond containment issues. Some of the most common agricultural applications include:
Holding potable water
Aquaculture, raising fish
Hydroponics – lining beds to prevent nutrient and water loss
Greenhouse covers
Haystack covers
Tank and cistern liners, for water as well as fuel, primary and secondary containment
Protecting livestock from sun and incremental weather
Protecting farm equipment
Keeping aggregate and/or grain dry
Rivers and dams
When considering river or dam management, there are several applications possible. In addition to uses based on its waterproof quality:
Algae ponds
Silt curtains for use in mining operations
Brine ponds
Containment booms for many purposes
Within cofferdams for seepage controls
Temporary cofferdam
Waterproof facing for dams
Stormwater management systems
Drought conditions are existing throughout the country. Stormwater retention, for use in irrigation and drinking water, can help utilize water without loss to seepage. A similar application, stormwater detention, involves the establishment of a dry pond, as a means of controlling flooding.
Geomembrane use in ponds
For commercial, industrial or residential applications, pond liners are durable, and puncture resistant. BTL Liners can create the largest single panels possible to minimize seams. Our RPE and RPP liners are fish and plant safe. Some common pond applications include:
Algae ponds
Brine ponds
Golf course ponds
Lakes
Preformed ponds
Retention ponds
Evaporation ponds for salt recovery
Recreational ponds
Waterscape and architectural ponds
Koi ponds
Canals
Thousands of miles of irrigation canals exist, with more added all the time.  Most canal walls are made of concrete, clay or soil. Over time, cracks can form along the walls, allowing water to seep through. It's been estimated that as much as 50% of irrigation water is lost due to seepage through canal walls. Adding geomembrane liners to canals will save that lost water; which is a critical idea, especially considering drought conditions.
Roads and highways
It may seem a bit surprising to find the term geomembrane in the same sentence as roads and highways. However, there are several environmentally conscious applications available. These include:
Overlays as a waterproofing layer beneath asphalt
Protection against hazardous liquid spills from traveling underneath and around roadways
Pollution protection from deicing salts added to roadway
Containment
In most situations, liners are used for secondary, as opposed to primary, containment of hazardous materials. Secondary containment can prevent hazardous liquids from polluting soil and water. It also provides an enclosure to reinforce storage systems, holding materials that are toxic, flammable, reactive, combustible or corrosive. For the ultimate containment protection, choose a fire-resistant liner.
Oil field containment
Mining containment
Drilling site pad liners
Heap leach pads for fracturing
Storage/removal of radioactive and hazardous waste and wastewater.
Secondary containment of above and below ground storage tanks
Secondary containment of hazardous liquids in transport
Disposal of mill tailings from mining operations
Geomembrane baffle curtains
Lining pipelines
Lagoons and pits
Lagoon and pit liners can be used to control wastewater seepage, preventing contamination of soil and drinking water. Since lagoons and pits are both used to hold some form of waste, preventing seepage is crucial. The use of floating covers can also be used to prevent pollution (including hazardous vapor) and to collect biogas. Some of the most common lagoon and pit-related liner applications include:
Animal waste containment
Aerobic and anaerobic manure digesters
Floating covers for pollution prevention
Floating covers for biogas collection
Salt disposal pits
Oil and gas fracturing pits
Fire retention ponds
Landfills
Managing landfills appropriately and efficiently can be a challenge. Lining the pits can prevent seepage of waste into the soil and groundwater. Liners can also be used for redirecting rainwater away from pits, which can result in huge financial savings.
Lining primary, secondary and tertiary solid-waste landfills
Alternative daily coverings instead of daily soil covering
Diverting rain/snow water from pits
Tarps and covers
Additional applications for tarps and covers include:
Soil stabilization to prevent landslides and erosion
Controlling expansive soils
Managing frost susceptible soils
Evaporation control with floating covers for ponds
Vapor barriers
Moisture seeping into a building's walls, ceiling and foundation can create structural problems. Providing a barrier to the moisture, preventing it from moving into the structural elements can eliminate the growth of mold, mildew and fungus. Vapor barriers can also prevent potentially hazardous chemicals from seeping into the soil and groundwater below a building's foundation.
Contact BTL Liners for your next project
There are nearly unlimited applications for geomembrane liners and new uses are being discovered all the time. For example, recently, after near-record snowfall accumulated on roofs in the Pacific Northwest, BTL's liners were put to use assisting with snow removal. For more than 35 years, BTL has provided the best possible geomembrane and specialty geosynthetic liners to our customers for a multitude of projects. If you have a projects or applications for geomembrane liners,
contact BTL
.
Aqua

Armor Pond Liner

The most versatile liner on the market today,

Aqua

Armor maximizes protection from harmful UV rays, tear resistance and punctures that cause leaks. Simply the best liner on the market.
Newest Articles: