Conserve Water with Specialty Geosynthetics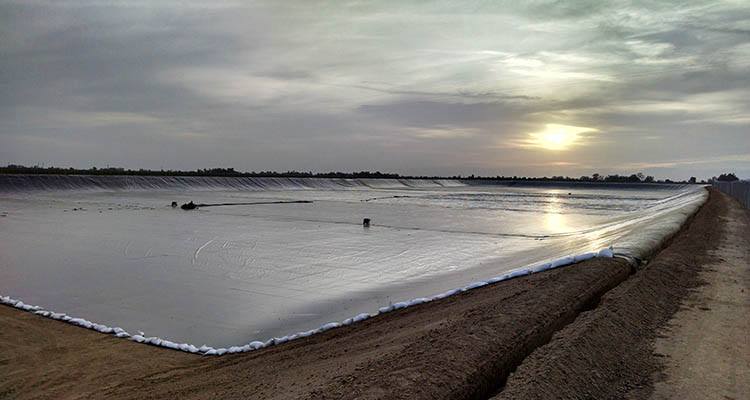 Specialty geosynthetics, such as pond liners and floating covers, can help conserve water, which is especially important in areas suffering from drought conditions. Despite being covered in water, the earth suffers from a shortage of fresh, clean water, which is essential to the human experience. Water conservation is more important than ever before, which makes specialty geosynthetics necessary for saving water and preventing seepage.
Specialty Geosynthetics | Liners
Specialty geosynthetics are used as water containment systems in many different industries and applications. From commercial and industrial to residential, geosynthetic liners help with water conservation by preventing leakage. Ponds, tanks reservoirs, lakes and lagoons are used as containment systems. When lined with geosynthetics such as reinforced polyethylene liners water conservation protection increases.
Unlined ponds and water containment systems can leak several feet of water each year
Water waste leakage can leach minerals like salt, calcium and magnesium into the soil, which can weaken pond structure and threaten nearby septic systems
Water drains faster than it can be replaced naturally
Different types of soil have different infiltration rates, which can cause faster water loss
Using specialty geosynthetics for pond liners can decrease the amount of seepage and water lost
Specialty geosynthetics made from reinforced polyethylene or reinforced polypropylene are durable, environmentally friendly and are safe for plants and fish
When it comes to conservation and containment, liners made from specialty geosynthetics help prevent leaks and seepage that results in water loss.
Covers
Specialty geosynthetics, such as floating covers, help conserve water by preventing water lost through evaporation. From water tanks for irrigation to swimming pools, floating covers made from specialty geosynthetics can be utilized in a variety of applications for water conservation. Swimming pools, for example, can lose hundreds of gallons of water a month due to evaporation alone. By using geosynthetic covers, billions of gallons of water could be saved each year. Reducing evaporation by using floating covers in industrial and agricultural settings could result in more water conservation in times where drought is a very real threat to the wellbeing of people all over the world. Geosynthetics have many advantages, but the environmental impact of water conservation remains one of the greatest benefits. Contact BTL Liners for more information about using geosynthetic liners for water conservation and containment.
Aqua

Armor Pond Liner

The most versatile liner on the market today,

Aqua

Armor maximizes protection from harmful UV rays, tear resistance and punctures that cause leaks. Simply the best liner on the market.
Newest Articles: