Energy Containment Liners, Tarps and Covers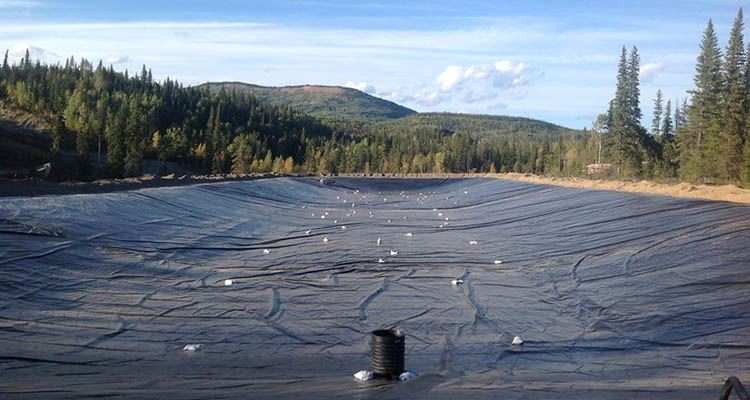 Liners, tarps and covers all have their place when it comes to energy containment. The energy industry relies heavily on these geosynthetic products to protect the large volumes of fluids that are involved in energy processes.
Energy Containment Liners
Energy containment liners are used most throughout the industry in a variety of applications. Energy containment liner applications include:
Drilling pit liners
Secondary containment liners
Water retention pond liners
Coal ash liners
Treatment pond liners
Fracturing tank liners
Energy containment liners are specifically designed to contain water, as well as chemical compositions and oil. Many energy containment liners are safe for flammable or combustible liquids, which makes them perfect for use in the oil and mining industry, as well as other energy applications.
Floating Covers
Floating covers are used regularly in energy industry applications to prevent the evaporation of surface water. Surface water can then be reused in energy applications. Additionally, floating covers help mitigate harmful emissions from being released into the environment. Floating covers are necessary for preventing stored liquids from freezing, especially in mining operations where water is essential to the process.
Mining Tarps
Tarps can be used for a variety of applications within the energy industry. Mining tarps are one of the most prominent uses and because the industry is so tough on them, it's important to have heavy duty, industrial-grade products that can withstand the toughest conditions and environments. A few characteristics of mining tarps include:
Fire Resistant
Durable
Puncture Resistant
Corrosion Resistant
Waterproof
Mining tarps are used to cover any area that needs to be protected from the elements or contained. Heavy duty mining tarps can be fabricated in any size, from the very small to the very large. Use mining tarps to cover heavy duty equipment, mined materials and for erosion and dust control on the worksite. There are many uses for mining tarps on-site and it's important to choose the toughest, more reliable tarps available for energy applications. BTL Liners offers energy containment liners, tarps and covers. We have the capability and experience building everything from floating covers to heavy duty mining tarps to liners for fracturing tanks. Contact BTL for more information about energy containment liners, tarps and covers.
Aqua

Armor Pond Liner

The most versatile liner on the market today,

Aqua

Armor maximizes protection from harmful UV rays, tear resistance and punctures that cause leaks. Simply the best liner on the market.
Newest Articles: