Prevent Pond Leakage with Geosynthetic Liners Instead of Clay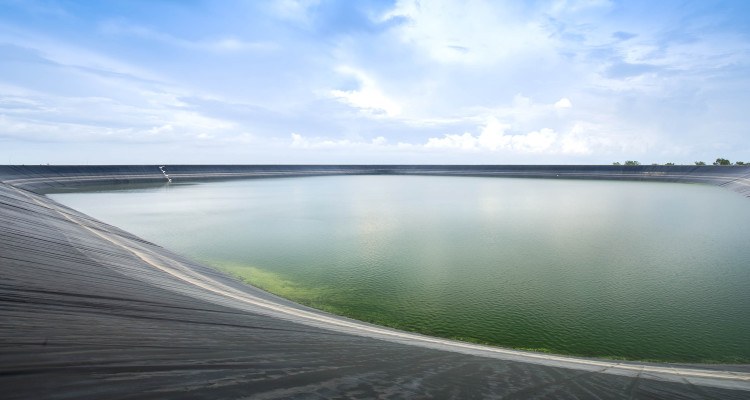 Water leakage is a major concern for ponds used in a variety of different industries. From agriculture to oil and mining to residential koi ponds, choosing the right liner can help prevent water leakage, but how does one choose? Geosynthetic liners have a multitude of advantages over clay and bentonite liners. We'll compare the two common types of pond liners to help you decide.
Clay and Bentonite Pond Liners
When designing new ponds, it's common to look for the most natural type of pond liner to make it as organic as possible. For those opting to use a liner to protect the structure of the pond and prevent water leakage, clay and bentonite materials are often used instead of geosynthetic liners.
Clay must be properly compacted according to the design to ensure a good seal, which takes extra time and labor
Exposed clay may crack and the seal can be rendered ineffective
If you ever drain the pond, clay can dry out and crack, meaning it won't seal again
Bentonite is a fine-textured colloidal clay that can absorb several times its weight of water
Bentonite is often mixed with native soil to reduce water seepage. To determine the amount necessary you may have to have your soil analyzed by a lab
Clay and bentonite often slump to the bottom of the pond, leaving mucky clay at the bottom and none on the sides
Shipping costs can often exceed the cost of the bentonite
Geosynthetic Liners to Prevent Pond Leakage
Geosynthetic liners such as reinforced polyethylene (RPE) and reinforced polypropylene  (RPP) have gained momentum as the go-to choice for pond liners.
Geosynthetic liners are quick and easy to install
Geosynthetic liners are water-tight, which creates a proper seal in ponds
RPE and RPP liners are puncture resistant, which makes them more durable and longer lasting than clay or bentonite liners
Geosynthetic liners won't crack when exposed to the sun and have strong UV protection
Geosynthetic liners are the clear choice for preventing water leakage in ponds in a variety of applications. Installing clay or bentonite instead of a geosynthetic pond liner often results in longer installation times, more physical labor and the possibility of becoming ineffective due to drying and cracking. Geosynthetic liners are a water-tight alternative to clay or bentonite for preventing water leakage in ponds. Contact BTL Liners for more information about our geosynthetic pond liners, which are custom fabricated to your exact specifications.
Aqua

Armor Pond Liner

The most versatile liner on the market today,

Aqua

Armor maximizes protection from harmful UV rays, tear resistance and punctures that cause leaks. Simply the best liner on the market.
Newest Articles: