Greenhouse Supplies For Commercial and Hobby Growers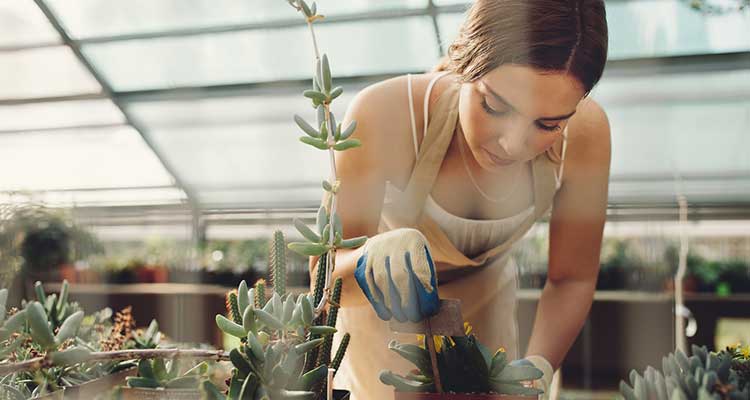 Whether you are a commercial or hobby gardener, we've put together an in-depth guide to help you pick up all the greenhouse supplies you need this season. From bed liners to woven greenhouse covers and everything in-between, print out this guide, take it to your local garden supply store—or head to our online shop—and pick up everything you need to get your greenhouse ready for the growing season.
Greenhouse Supplies For Hobby, Commercial, and Wholesale Gardeners
If you operate a small home garden, a large homestead, a commercial greenhouse, or a landscaping company that provides greenhouse supplies to all of the above, the basic materials you need to get started remain the same. Greenhouses can start small, then scale upwards each season as needed (especially if you opt for woven materials
instead of glass
). All you'll need to do is adjust the quantity you need for each item. Let's start with the basics.
Bed Liners
Whether you choose in-ground or raised beds, you'll need to line those beds with
geomembrane
lining material. And believe it or not, the material you choose is very important—especially if you are interested in organic gardening. This is because many inexpensive PVC products contain harmful chemicals and plasticisers that can leach into your soils. Caused by sun exposure, heat, or water, these materials can quickly contaminate an entire greenhouse bed if proper precautions are not taken. To avoid this, opt for
potable-grade liners
. This means no matter how hot or cold your bed liners get, and no matter how much water they are exposed to, the material lining you greenhouse beds remains steadfast, and the vegetation growing in them remains incorrupt. It also means your fruits and vegetables remain organic if the designation is important. Overall, this is healthier for your soil, for your crops, and for your long-term growing goals. To verify that the bed liners you are using are potable-grade, make sure they are
NSF Certified
. The National Sanitation Foundation (or NSF) is the governing body responsible for verifying that products meet their standards for safe food, water, and fish production. Several of the liners made by BTL Liners are NSF Certified potable-grade liners. They have been verified by a third-party as safe for use in drinking water, organic gardening methods, and fish ponds.
Greenhouse Covers
As you may know by now, we are firm believers in woven greenhouse materials. Though greenhouse glass is absolutely beautiful, that is where the benefits end. Glass is expensive and inefficient. It has a high heat transfer rate which means that glass greenhouses are highly susceptible to the cold. Not to mention, it is decidedly not durable. One bad storm, a branch that falls, or heavy snowfall, can cause the glass to crack or break. In other words, glass greenhouses are beautiful, but not at all functional. Woven greenhouse covers, on the other hand, are just the opposite. Made from reinforced polyethylene, these clear greenhouse covers allow up to 85% UV transfer (much more sunlight than their glass predecessors). They also reflect infrared light back into the greenhouse making them the most efficient to heat. Woven greenhouse covers are extremely durable; they won't break or shatter, they are warrantied for up to five-years, and are easy to replace if necessary. Not to mention, they pair perfectly with light deprivation tarps. Speaking of which...
Light Deprivation Tarps
Light deprivation (or
blackout gardening
) is the process of augmenting sunlight to mimic a crop's ideal growing season. For instance, if you wish to grow flowers year-round, you'll need to use light deprivation tarps to mimic the spring or fall growing seasons. This means creating an artificial 12-hour day and 12-hour night to trick flowers into blooming in the off-season. To stimulate day and night, place light deprivation tarps over the greenhouse framework to completely blackout the crops. This is much easier achieved with woven greenhouse covers and hoop houses. As applying and removing the tarps needs to be done twice a day and needs to cover the entirety of the greenhouse, it can be very labor-intensive and time consuming to achieve. Hoop houses, on the other hand, are relatively easy to cover. Simply pull the blackout covers over the frame and then remove them come morning. BTL Liners provides greenhouse supplies for hobbyist and commercial gardeners. That includes bed
liners
, greenhouse
covers
, and light deprivation
tarps. 
We even offer
wholesale options
for landscaping or gardening centers who provide these materials for their clients.
Contact us
for more information or
shop our online store
for all your greenhouse supply needs.
Aqua

Armor Pond Liner

The most versatile liner on the market today,

Aqua

Armor maximizes protection from harmful UV rays, tear resistance and punctures that cause leaks. Simply the best liner on the market.
Newest Articles: