Growth Anticipated within Geomembrane Market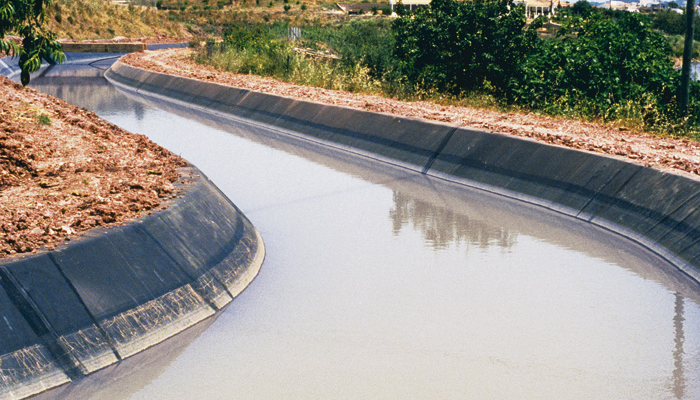 According to a new research report by reportsonreports.com, the overall geomembranes market is expected to grow at a compound annual growth rate (CAGR) of 12.16% through 2019. Significant opportunities are seen both in waste management and water management, but the mining industry, in particular, demonstrates huge growth potential as the world economy begins to recover and commodity prices rise. Governments around the world are already beginning to expand exploration and map new mining areas.
A team pulls a geomembrane liner across a large installation. Geomembranes (synthetic materials used to control the flow of fluids or gasses) are essential within the mining industry in order to prevent dangerous chemical seepage in heap-leach pads, to protect unprocessed ore from rain and to line wastewater ponds. In waste management, geomembranes are widely used as landfill liners, landfill covers and leachate ponds liners. They also provide excellent service as odor barriers. In water management, geomembrane liners can be used as floating baffles to retard the flow of stormwater, to line stormwater or wastewater impoundments, or as floating covers to prevent contamination. BTL has pioneered the development of heavyweight reinforced polyethylene (RPE) geomembrane liners since the 1980s. RPE is particularly valuable for its proven reliability: high ultraviolet and chemical resistance, strength, flexibility and puncture resistance. These properties are vital to applications in waste management, water management and mining industries.
Tailings pond for mineral waste One of the major challenges facing members of the geomembranes industry is broad fluctuations in raw material prices, particularly for those companies who source their material from China. Here at BTL, we pride ourselves on the fact that everything we create is made in North America. We're also proud of our longstanding merchant relationships—some of which are over 30 years old! These long-term business connections mean that we are able to guarantee superior quality control and availability, as well as reliable pricing. BTL Liners is well positioned for the coming 5 years of growth. We have years of expertise, longstanding partnerships with industry innovators, and the initiative to produce liners of uncompromising quality and unprecedented sizes in record time! Call us at 541-447-0712 to discuss your next project with us—you'll be glad you did!
A lined canal directs water without loss through soil drainage. Photo Attributions: image 1: www.eventbrite.com image 2: www.soilvision.com image 3: www.su-yapi.com
Aqua

Armor Pond Liner

The most versatile liner on the market today,

Aqua

Armor maximizes protection from harmful UV rays, tear resistance and punctures that cause leaks. Simply the best liner on the market.
Newest Articles: