High Temperature Liners Combat the Effects of Elevated Thermal Stress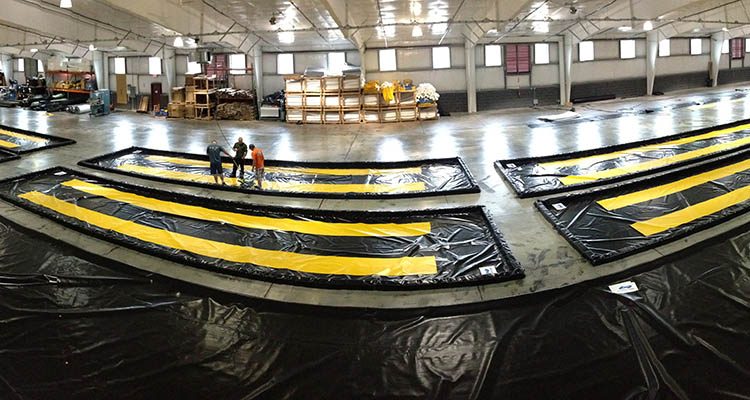 Many different applications require high temperature liners that can contain heated liquids. High temperature liners may be required in order to preserve the integrity and service life of the geomembrane itself. Both reinforced polyethylene (RPE) and reinforced polypropylene (RPP) liners are rated up to 180 degrees Fahrenheit for sustained temperature. This has become an industry standard.
Applications for High Temperature Liners
Choosing high temperature liners benefits a variety of industries and applications, including:
Secondary containment
Industrial ponds
Food processing systems
Hot liquid storage
Process water containment
Waste water treatment
Bioreactor landfills
Oil and gas operations
Brine evaporation pond containment
Geothermal ponds
Hot fluid discharges
Solar water tank heating
While protection up to a sustained 180 degrees has become the industry standard, specialty products are available that can go up to 300 degrees. At BTL Liners, our RPE and RPP liners have been tested up to 180 degrees. We don't stock the specialty products that go up to 300 degrees, but we could make custom if a customer required that strength.
Liners for Extreme High Temperatures
High temperature liners have been designed to withstand the effects of extreme temperatures. Liners designed for extreme high temperatures aren't challenged in the same way as liners  that haven't been optimized for heat resistance.
Heat accelerates the natural aging process of polymers in the liner material, which can decrease service life if the proper liner isn't selected
Extreme high temperature liners have been formulated to combat the effects of heat stress
RPE and RPP liners combine heat and chemical resistance to create a liner that's ideal for use in harsh secondary containment applications
When heat resistance counts, choose RPP or RPE liners. BTL Liners offers extreme high temperature liners that have been tested to sustain temperatures up to 180 degrees Fahrenheit. For customers needing a more extreme heat-resistant liner, BTL can custom manufacture liner with resistance up to 300 degrees. Contact BTL for more information about extreme high temperature liners.
Aqua

Armor Pond Liner

The most versatile liner on the market today,

Aqua

Armor maximizes protection from harmful UV rays, tear resistance and punctures that cause leaks. Simply the best liner on the market.
Newest Articles: