Increase Crop Yields with Greenhouse Farming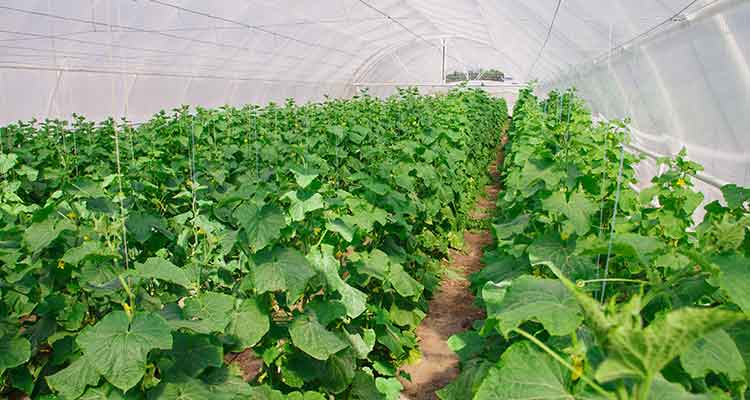 Could greenhouse farming have a promising role to play in the world's food production? By 2050, the population on earth will reach approximately 9 billion people, almost 25 percent higher than it is today. Virtually all of the population growth is predicted to happen in developing countries.  Moreover, the urbanization in these communities is set to increase by an astonishing 70 percent. Plants, whether grown as food such as tomato plants and lettuces, rely on water, microbes, food, air, and light for nourishment and growth. Even though the sun is the perfect source of light, this is nature, after all, it can set back a plant's growing cycle. As people, we can protect our skin from overexposure to ultraviolet radiation from the sun by putting on sunscreen or going indoors. Plant's can't do that. UVB is more harmful to our skin than UVA, and the same holds true for plants. Overexposure to UVB can stunt growth. This leads to lower crop yields and makes seedlings more susceptible to disease and insects. Upgrading greenhouses with high-quality plastic covers is a practical and cost-efficient approach for growers and farmers. Greenhouse plastics can help farmers increase their yields by filtering some of the light plants receive or all of the light for shorter periods of time. Growers who use light dep methods are able to mimic nature's growing season several times a year with blackout tarps that are fitted over greenhouses to control light cycles. Combined with supplemental heating and lighting, farmers can create a growing environment for year-round production. Herbs, vegetables, and flowers respond very positively to light dep techniques and organic farming practices. Farmers also favor these methods as they are natural, and have positive benefits without the use of chemicals or pesticides. BTL Liners offers tarps and covers for numerous agricultural applications. The BTL-12 BW SR is a heavy-duty reinforced polyethylene synthetic membrane with a new string-reinforced design. Aside from being tear and puncture resistant, BTL's tarps and water-resistant liners, very UV-stable, and chemically resistant, and ideal for the daily wear and tear of covering and uncovering greenhouses.
What should I consider when buying covers for greenhouse farming?
Plastic covers for greenhouses are not all equal. Look for fabrics that are best suited for your particular application. BTL Liners carries products that will filter out UVB and feature visible material strands that help to prevent tears and punctures. BTL Liners offers light dep tarps made from lightweight reinforced polyethylene synthetic membrane. Aside from being tear and puncture resistant, the material is water resistant, very UV-stable, and chemically resistant.
The BTL-24 BW SR
is a heavy-duty reinforced polyethylene geo, with a new string-reinforced design, which is very durable, and ideal for the daily wear and tear of covering and uncovering greenhouses. BTL's liners feature solar-reflective, white color on one side, which helps minimize heat absorption. The reverse side is black and faces inward to keep it dark inside.
BTL Liners' green geotextiles are made from post-consumer recycled plastic bottles. Used for landscaping, rain gardens, or other innovative purposes, each truckload of geotextile keeps 300,000 bottles from entering landfills.
The goal of greenhouse farming is to produce more food and feeding more people on the planet is going to require planting additional arable land in addition to a significant increase in crop yields. BTL Liners is proud to work with various sustainable projects. Residential and commercial projects include fish farms, algae harvesting as an alternative fuel source, and individual homeowners who want to conserve water by creating residential rainwater collection systems and wicking beds for
raised garden boxes.
BTL's greenhouse plastics can be fabricated in any size and finished for a broad range of applications. Our turnaround time is typically 24-48 hours—among the fastest in the industry. As always, all our tarps are American-made from North American materials and are fully guaranteed.  
Aqua

Armor Pond Liner

The most versatile liner on the market today,

Aqua

Armor maximizes protection from harmful UV rays, tear resistance and punctures that cause leaks. Simply the best liner on the market.
Newest Articles: