BTL Fabricates Largest Single Panel Geomembrane From BTL-40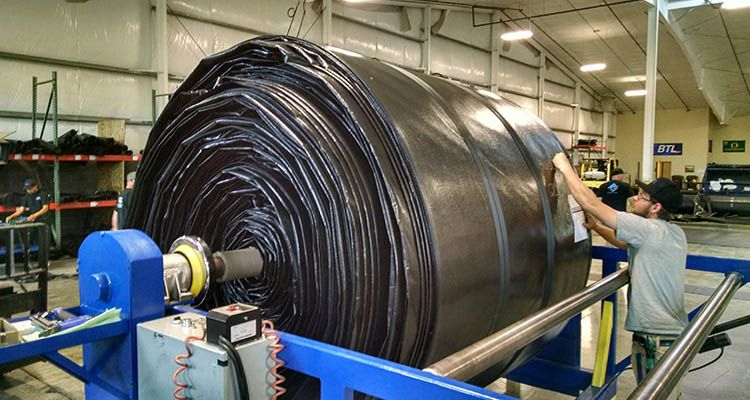 At BTL Liners, we pride ourselves on creating the biggest, most durable liners in the industry. We recently completed a project, which resulted in the largest single panel geomembrane ever created from our BTL-40 product. The single panel liner measures in at 54,000 square feet and was manufactured and fabricated with North American goods.
The Largest Single Panel Geomembrane Project
Typically, for large liner projects, multiple panels are fabricated in our facility and then welded together in the field. This project, a holding pond at a vineyard, wanted to save money on installation. By creating a heavy-weight, durable liner this size in a single panel, the vineyard saved thousands of dollars, as they can have their own workers install the liner. The customer has a lot of wildlife present near the vineyard. This required a liner that would be very durable in regard to puncture. BTL-40 is our proprietary double-scrim reinforced containment liner. BTL-40 was originally developed for applications where puncture resistance and UV resistance is important. BTL-40 has a burst strength of 1250 PSI and is often recognized as the strongest reinforced polyethylene liner material on the market today.
54,000 square feet single panel, 270 x 200 square feet
Almost 8,000 lbs of liner to install
Longtime UV resistance
Puncture resistance
NSF-61 potable rating
Manufactured and fabricated with North American goods
As an organic vineyard, the NSF-61 potable water rating was a big selling point for the customer. NSF-61 certified liners have many benefits, especially in organic agriculture. These liners have undergone all of the necessary requirements to certify they are safe for drinking water for human consumption. At BTL Liners, we're excited to continue pushing the boundaries of geomembrane containment fabrication. With our recent fabrication of the largest single panel geomembrane, we're changing the face of containment, one liner at a time. Contact BTL for more information about BTL-40 and our line fabrication capabilities for your specific project.
Aqua

Armor Pond Liner

The most versatile liner on the market today,

Aqua

Armor maximizes protection from harmful UV rays, tear resistance and punctures that cause leaks. Simply the best liner on the market.
Newest Articles: