BTL Liners Enables Longer Growing Seasons in Central Oregon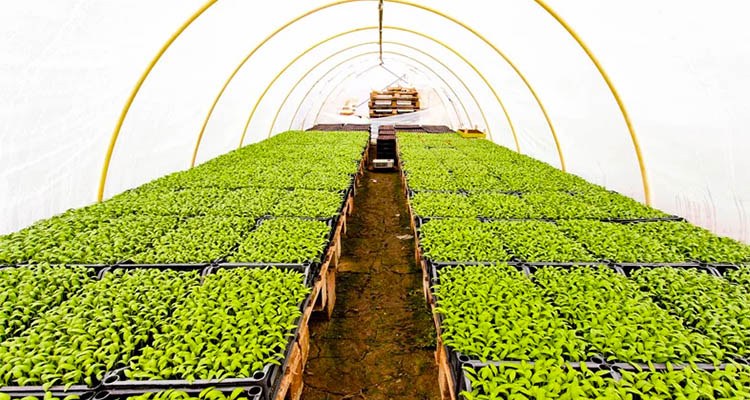 (January 21, 2016, PRINEVILLE, Ore.) — Central Oregon's high desert climate is challenging for growing certain varieties of produce, such as nightshade fruits and vegetables. By insulating tender plants from frost and from cool above-freezing temperatures, greenhouses and raised garden beds make it possible to extend the length of the growing season, as well as to expand the variety of produce that can be harvested. BTL Liners, a fabricator of geosynthetic covers and tarps, provides custom greenhouse covers that can extend and enrich the growing season in Central Oregon. Central Oregon is home to a large number of farms, ranches and residential gardens. In a community that supports local businesses and produce, the option of extending the growing season into the colder months appeals to both local farmers and the community as a whole. Greenhouse covers, whether applied to a greenhouse structure, a gardening tunnel or raised garden bed, provide frost protection. The covers work by absorbing the sun's daylight energy, protecting crops during cold temperatures and evenings and supporting the plants growth and survival. The covers keep the soil moist, smooth and absorbent; conditions which are essential for variety as well as better-tasting produce. Industrial-grade greenhouse covers from BTL Liners provide longer growing seasons and allow the community to harvest and eat local produce longer than traditional uncovered gardening. BTL's greenhouse covers are fabricated at the company's facility in Prineville, Oregon, and are suitable for both commercial and residential applications. Contact BTL Liners for information about how greenhouse covers can extend the growing season in Central Oregon or for more general information about the company.
About BTL™ Liners:
Since 1981, BTL Liners has provided clients the confidence and peace of mind that comes from innovative geomembrane containment systems. With sales volumes approaching 75,000,000 square feet annually, BTL is able to make the largest panels in the industry at 150,000 square feet in its 84,000 square foot state-of-the-art fabrication and welding facility in Prineville, Oregon. BTL maintains the highest standards in speed of delivery, customer service and uncompromising quality. For more information, visit BTL online at
www.btliners.com
or call 800-280-0712.
Contact: Michael Baron | 800-280-0712 |
michael@btlliners.com
Aqua

Armor Pond Liner

The most versatile liner on the market today,

Aqua

Armor maximizes protection from harmful UV rays, tear resistance and punctures that cause leaks. Simply the best liner on the market.
Newest Articles: