Overwintering Onions | Low Tunnels Achieve Favorable Results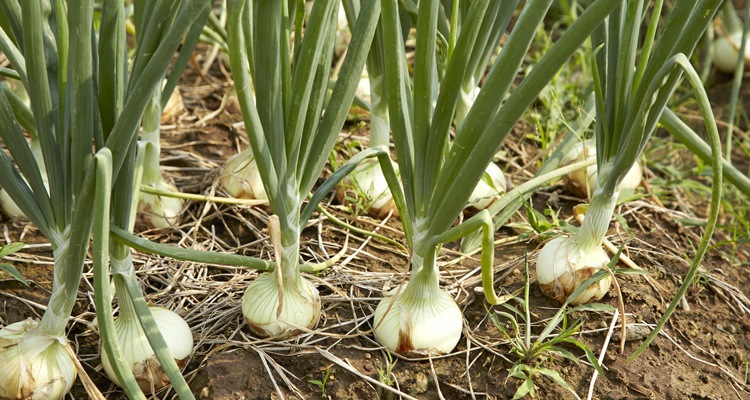 Recent studies on overwintering onions reveal that low tunnels can help vegetable growers achieve reasonable crop yields when planting seeds in fall and growing plants throughout the winter months. Doing this helps meet the demand for locally sourced produce beyond the summer and fall seasons. The features of low tunnels make them more accessible to gardeners and farmers due to their lower costs and ease of construction.
Winter Growing Techniques for Crops
High demand vegetable crops such as tomatoes, lettuces, and onions can be grown in different climates, and out of season, with the proper setup and execution. Traditionally heated greenhouses have historically been used to extend the vegetable growing season successfully. While this approach can be very successful, the cost to build, maintain and heat large greenhouses can be steep. Of the new, affordable growing techniques being developed, one of the more promising is temporary low-tunnel greenhouses.
Why Low Tunnel Greenhouses are so Effective
Hoop houses and low-tunnel greenhouses are becoming a favorable and affordable approach for growing out of season produce in unfavorable weather conditions. Low tunnels are typically very short greenhouses that span long distances across fields. Rather than having a single structure over an entire garden or field, which can be structurally unsound and significantly more expensive, it is most cost effective to have tunnels covering each row individually. The narrow, but long tunnels include just enough area for the plants to grow, without covering the bare soil that does not need protection. Another goal achieved by low tunnels is to isolate the plants from the environment. This is important because it protects the plants from freezing rain, low temperatures, and snow, all of which can quickly kill plants. Studies have shown that overwintering onions in low tunnels do allow produce to successfully grow, even during harsh snowy winter conditions.
Researchers Successfully Use Low Tunnels to Significantly Increase Winter Onion Crop Yields
Researchers investigating and refining low tunnel growing techniques and have shown that growing certain crops in the winter can be done successfully with reasonable yields.
In the
December 2014 issue of HortTechnology Becky Sideman, an  NHAES faculty researcher extension professor of sustainable horticulture production at UNH
,
and her colleagues at the University of Massachusetts-Amherst, University of Massachusetts Extension, and UNH Cooperative Extension, presented their research findings in the article:
Production of Bulbing Onion Overwintered in New Hampshire with Protection by Low Tunnels.
The University of New Hampshire researchers have reported successfully growing "bulbing onions planted in fall for a spring harvest with the aid of inexpensive low tunnels," says Lori Wright, NH Agricultural Experiment Station. Farmers across the country are consistently researching affordable ways to meet the growing demand for locally sourced produce year-round. Especially, in colder climates. "Funded by the NH Agricultural Experiment Station (NHAES) and by Northeast SARE (Sustainable Agriculture Research & Education), this new research has helped identify opportunities for cold climates growers," says Wright.
Researchers evaluated the survival, bolting, and bulbing of several strains of fall-planted onions in two different sites in New Hampshire over two growing seasons:
Plants were seeded in August and September and then transplanted in September and October into raised beds covered with black plastic mulch
Low tunnels were constructed over the plants in late fall
Onions were harvested from mid-April to early June
The onion crop exhibited a high percentage of survival, between 65 and 100 percent
Low tunnels have been shown to be very effective and create a sellable product out of season. Just a few years ago it was somewhat unlikely to see locally fruits and vegetables out of season, as growing indoors can be significantly more costly. Implications in the farming industry are high, especially if consistency continues to increase while costs decrease
Why are farmers and local food growers so interested in utilizing low tunnels for overwintering onions and other types of vegetable crops?
Sourcing produce locally is one of the top food trends today. The trend is embraced by individuals, locally owned and operated restaurants and big box chains alike. Chefs are embracing the local food movement as reflected in menus across the country. A recent survey of chefs across the country, released annually by the National Restaurant Association, identifies the trend for locally sourced food as among the top 10 food trends for the past five years running. Farmers can meet the demand for locally sourced food during off season growing times of the year by utilizing greenhouse technologies. While high-technology
greenhouses offer superior crop and environmental performance
, low tunnels also utilize greenhouse plastics and are easier to build and manage.
It's Easy for Local Food Growers to Purchase Greenhouse Materials from BTL Liners
Whether you are overwintering onions or getting a head start on the growing season, BTL Liners in Prineville, Oregon, can help. Hoop houses and low-tunnel greenhouses are becoming a very successful, and affordable approach, for growing produce out of season or in less than ideal weather conditions. Plastics are the primary material used to build all types of greenhouses, which makes choosing the right greenhouse materials for your application and climate essential.
BTL carries 12-mil woven greenhouse material that can be custom fabricated to any size; we ship throughout the United States, Mexico, and Canada.  With BTL Liners, both backyard and commercial growers can both extend their growing season with
high-quality, durable greenhouse materials
and successfully produce crops—even in harsh climates.
---
Sources:
December 2014 Issue of HortTecnology
Vegetable Growers News
University of New Hampshire
Aqua

Armor Pond Liner

The most versatile liner on the market today,

Aqua

Armor maximizes protection from harmful UV rays, tear resistance and punctures that cause leaks. Simply the best liner on the market.
Newest Articles: