Pond Liners for Home Use | Create Beautiful Spaces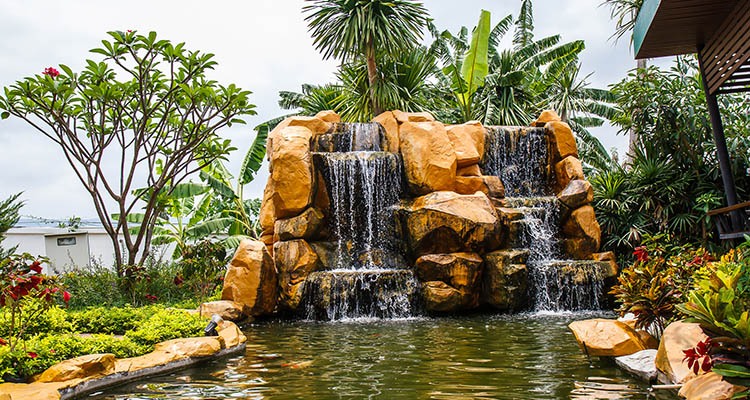 When it comes to pond liners for home use, there are a variety of residential applications that can beautify your property and create an inviting atmosphere for your family and guests. Water features, including koi ponds, waterfalls and fountains not only will create pleasant spaces you'll want to share with loved ones for years to come, but also increase your property value. By adding water features and protecting them with pond liners, you're creating spaces you'll be eager to spend time in.
Implementing Pond Liners for Home Use
There are many ways to implement pond liners for home use, including:
Koi Ponds -
Designed for enhancing the landscaping at your home, koi ponds provide a home for shiny and beautiful koi fish. These habitats add natural beauty to your property. The architecture of the pond greatly influences the health and growth of the fish, which is why choosing the best pond liners for home use is an important factor in their construction.
Streams -
Pond liners can also be implemented when building a stream from your garden pond. Adding a stream to your garden pond can help aerate the water and reduce the likelihood of bacteria growth. Streams also help provide oxygen for fish and plant life. It's important to use pond liners for home use that have been approved as fish and plant safe.
Waterfalls -
Whether building a waterfall by arranging rocks and brick, or using the natural ground where the pond is located, pond liners for home use can help you create the cascading effect you're looking for to enhance your property. Waterfalls also have aerating and oxygen providing properties, which are beneficial for the fish and plants in your pond. Whether building a beautiful water garden featuring a variety of aquatic plants and flowers, or getting zen with a koi pond, pond liners for home use can make all the difference in creating the landscape of your dreams. Contact BTL Liners for more information about pond liners for home use.
Aqua

Armor Pond Liner

The most versatile liner on the market today,

Aqua

Armor maximizes protection from harmful UV rays, tear resistance and punctures that cause leaks. Simply the best liner on the market.
Newest Articles: