Q&A with BTL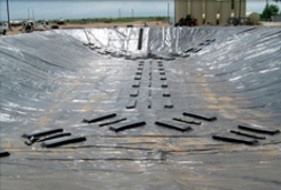 How did BTL originate, and how has the company changed through the years? BTL began in 1981 in Bend, Oregon, and primarily serviced the Oregon lumber industry. The company, then called Bend Tarp & Liner, focused essentially on truck tarps used when hauling processed lumber, as well as many other cover applications. As the lumber industry steadily declined, and the demand for containment applications grew dramatically through the 1990's and early 2000's, Bend Tarp & Liner shifted focus and has become a leader in the use of reinforced geomembranes for containment of water, contaminated liquids and soils, etc. In 2007, we moved into a much larger facility in Prineville, OR, and we changed our name to BTL Lining, Inc. and BTL Sales, Inc. In business now for 31 years, BTL is a worldwide supplier and fabricator of containment liners. Our proprietary PPL® liners range in thickness from 12-40 mils, and are the strongest and most cost-effective RPE (reinforced polyethylene) available in our industry today. Unlike PVC liners or EPDM liners, polyethylene liners are inert and provide superior UV and chemical resistance for plant and fish-safe applications, typically requiring no soil cover. Our PPL® liners are much stronger than PVC and EPDM, and can be factory-fabricated into large lightweight custom panels. BTL specializes in working directly with retailers, homeowners, developers and contractors to furnish or install our liners utilizing local equipment and personnel. With our ability to make the largest single panels in the liner industry (up to 120,000 square feet), quick turnaround times, uncompromising quality and excellent customer service, we provide significant savings compared to typical liner installations. What is involved in a BTL sales visit? The typical sales visit, whether in our offices or on the customer's site, revolves around understanding the customer's needs and desires, and working to find the best way to fulfill the job. We discuss the specific project's details, scope and size, and determine the type of material that is best suited for the job. Why is it sometimes necessary to visit a client in person? Our customers appreciate our on-site visits because it allows us to share our knowledge and experience as we discuss appropriate methods and materials for the project. It is especially advantageous to schedule a site visit for large projects. If a visit is impractical due to distance, time parameters or expense, we have been very successful over the decades at working with clients via phone, email, photos, drawings, etc. We strive to neither over-sell nor under-sell any customer—our goal is always to suggest appropriate products for the application, based on our many years of experience. What are some of the most unique liners that you've been asked to manufacture in your 31 years of business? We've been asked to manufacture everything from giant recreational "slip and slides," like the one at Tetherow Crossing in Bend, Oregon, to "Elk Guzzlers," which are self-filling watering facilities for wildlife. We enjoy receiving unique challenges from our customers! What is the furthest you've traveled to represent BTL liners? We've installed liners in locations as far away as Nicaragua and Kuwait. We're proud that our reputation has traveled around the world, and we are happy to exceed our customers' expectations—no matter the distance between our locations! What's the most important thing that you want potential clients to understand about BTL Liners? The most important thing that we would like potential clients to understand is that BTL values integrity and honesty; we strive to treat each and every client with respect and friendship. There are several ways that we express these principles: helpful and knowledgeable customer service, industry innovation and education, trustworthy accuracy and dependable responsiveness. For over 30 years, BTL has focused on providing the correct solutions for our customers' applications, with the fastest possible turnaround times (typically 24-48 hours). Our team is available every business day to discuss your project, and our customers are appreciated and respected, whether they are homeowners or the largest corporation in the country. We have always done things this way, and always will.
Aqua

Armor Pond Liner

The most versatile liner on the market today,

Aqua

Armor maximizes protection from harmful UV rays, tear resistance and punctures that cause leaks. Simply the best liner on the market.
Newest Articles: