Sports Field Covers Protect Baseball Fields During Winter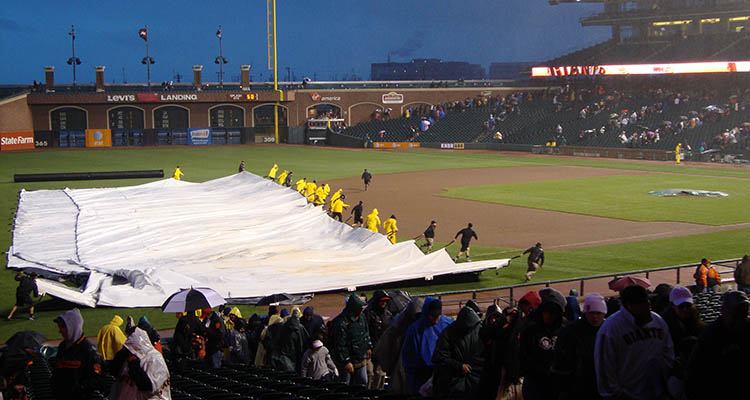 No one is going to be singing, "Take Me Out to the Ballgame" this spring if baseball fields aren't properly protected. Sports field covers help protect turf and grass from freezing during the cold months. When baseball fields aren't covered in the winter it can have long-term negative effects come the spring playing season. Baseball field covers have many advantages and can be fabricated to specifically protect different areas of the field.
Advantages of Sports Field Covers
Turf and sports field covers protect baseball fields from frost damage and freezing during cold weather
Sports field covers can help accelerate turf growth, which places your field in better condition when the new season begins
Warms the soil and allows light to pass through, which encourages growth even in the coldest time of year
Turf covers can be helpful in protecting your field against pests
Prevents unwanted foot and animal traffic
Baseball field covers and tarps can be custom made to protect certain areas of the field. Infield covers, outfield covers, base and plate covers and full field covers can be fabricated to protect the areas that you have the most concern about. Sports field covers can be manufactured from reinforced polyethylene or reinforced polypropylene in black or white. Vinyl covers can also be fabricated to match your team colors with the grommets, D-rings and the accessories you desire. Lightweight tarps and sports field covers for bases, pitcher's mounds, or for the full diamond are easily transported and stored. Sports field covers can be made with weighted seams, or used with stakes and sandbags to keep them down. Sports field covers are used all over the world from high schools to
Major League Baseball
. Contact BTL Liners for more information about custom baseball field covers fabricated to your specifications and color preference.
Aqua

Armor Pond Liner

The most versatile liner on the market today,

Aqua

Armor maximizes protection from harmful UV rays, tear resistance and punctures that cause leaks. Simply the best liner on the market.
Newest Articles: