Stormwater Retention Systems Take Advantage of Heavy Rains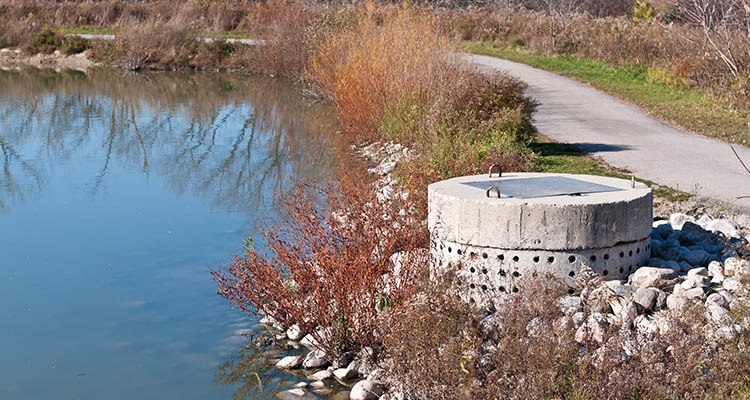 Throughout the southwestern United States, especially California, drought has stricken the area for a the last several years. This time has forced many cities, municipalities, businesses and individuals to reconsider their stormwater retention systems. With the severe scarcity of water, one of the world's most precious resources, the necessity to implement progressive strategies for capturing and retaining it have become a priority in arid, drought-ridden areas. When the rains start to fall, it's essential to effectively capture this water to be stored and used at sustainable levels.
Stormwater Retention Systems
Before the heavy rains start to fall, it's important to prepare stormwater retention systems in order to maximize the amount of water saved. Choosing the right system depends on your water requirements and capabilities of the space for stormwater retention.
Retention Ponds
Water is filtered into retention ponds through a series of storm drains and channels. Plant life and landscaping around retention ponds help provide stability to the banks of the pond and add aesthetic value. These types of ponds help manage stormwater runoff and are designed to permanently hold water.
Water Tanks
Water tanks have a variety of benefits as a part of stormwater retention systems. Water tanks can be used for collecting and storing rooftop water runoff for use at a later time. An added benefit to water tanks is they help reduce evaporation, which can occur in the soil around retention ponds.
Underground Cisterns and Storage Tanks
Underground stormwater retention systems are used in cities to capture and store rainwater from nearby roofs. These types of stormwater retention systems help with providing water for landscape irrigation. Underground storage tanks, cisterns and basins must be properly lined in order to retain the captured rain and water runoff. While there are many different types of stormwater retention systems, your application will likely help dictate the right choice. Cities and municipalities may consider underground storage tanks while farmers and those in the agriculture industries will want to install retention ponds. Water tanks can be used in a variety of applications, but may be more common and practical in commercial and residential applications. Contact BTL Liners for more information about liners for all of your stormwater retention systems.
Aqua

Armor Pond Liner

The most versatile liner on the market today,

Aqua

Armor maximizes protection from harmful UV rays, tear resistance and punctures that cause leaks. Simply the best liner on the market.
Newest Articles: