Strength of Geomembrane Liners | Is Thicker Better?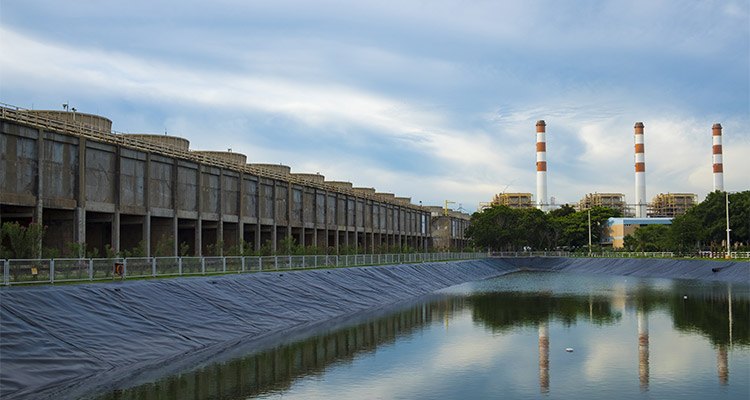 When comparing the strength of geomembrane liners and containment systems on the market today, this question arises, "Does thickness matter?" While logic may say it does, in reality, thickness does not equate to a better liner product. The geomembrane market is loaded with a variety of options for liners and containment systems. Among the most common are polyvinyl chloride (PVC), ethylene propylene diene monomer (EPDM), high-density polyethylene (HDPE) and reinforced polyethylene (RPE). At BTL, we manufacture custom liners from reinforced polyethylene (RPE), reinforced polypropylene (RPP) and low-density polyethylene (LDP). Our BTL 40 is the strongest RPE liner on the market today. How does this liner compare to other available geomembrane liners?
Ethylene Propylene Diene Monomer (EPDM)
EPDM is a type of geomembrane liner made from rubber. It is used for roofing as well as for water gardens and smaller residential projects.
Heavyweight compared to other geomembrane liners
Good flexibility
Poor chemical resistance
Low puncture resistance
Stretchable, but increases ease of puncture when stretched
Difficult to seam
Polyvinyl Chloride (PVC)
Another geomembrane commonly used in a broad range of projects is PVC. Before the development of RPE, PVC was arguably the most common geomembrane on the market.
Primarily used for golf ponds, detention ponds, and irrigation reservoirs
Good flexibility
Flexibility comes from the use of plasticizers, which can leach into water
Cost effective, compared to other forms of geomembrane
Twice as heavy as RPE
More puncture resistant than EPDM
Low UV protection
Needs to be replaced more frequently
High-Density Polyethylene (HDPE)
HDPE is currently the most commonly used geomembrane in the world, due to its availability and relatively inexpensive cost. However, with the introduction of
BTL liners in the European market
, this is beginning to shift.
Typically used for landfill and mining operations
Less flexible than EPDM and PVC
Good chemical resistance
Good UV protection
Relatively heavy, and thicker than the other geomembrane liners
Requires installation by certified welding technicians and specialized equipment
Reinforced Polyethylene (RPE)
BTL's double-scrim reinforced polyethylene liners were developed for applications where strong puncture and UV resistance are high and seepage rates are low.
Widely used in residential, agricultural, commercial, mining and energy operations
Easy to install, can prefabricate before installation
Does not require underlayment
Safe for containment of water for fish, plants and humans
Excellent UV protection
Outstanding chemical resistance
Unparalleled tear and puncture resistance
Good flexibility, down to -65° F
Lightweight
Strength of geomembrane liners - RPE and HDPE
Of the four discussed types of geomembranes, RPE and HDPE have the greatest strength and tear resistance. However, HDPE is thicker and heavier than RPE, as well as more difficult to install. In strength comparison tests, there are also some noticeable differences, as well. Despite being more than twice as heavy and 50% thicker than the BTL 40, 1.5mm HDPE was outperformed in a variety of
strength tests
.
Tear resistance is fundamental to the success of projects requiring geomembrane liners. In laboratory tests where BTL's RPE liners were performed according to ASTM D5884-04a and the HDPE was also tested according to the ASTM D1004-3 standard, the BTL 40 tested over 300% stronger. In other tests involving strength of geomembrane liners at yield, elongation at yield, puncture resistance and others, similar conclusions resulted as BTL 40 significantly outperformed HDPE in every category. The effects of these tests demonstrate that in the case of geomembrane liners, thicker is not better.
BTL 40 is the strongest geomembrane liner on the market
BTL's geomembrane liners provide superior strength, water loss prevention, contamination protection and seepage prevention. The BTL 40 also has a burst strength of 1250 psi, making it the strongest geomembrane liner on the market today. This is coupled with the fact that the BTL 40 is less than half of weight of HDPE, PVC or EPDM, and does not require an underlayment. BTL's reinforced polyethylene liners are the strongest, most lightweight and UV/chemical resistant geomembrane liners on the market today. Contact BTL Liners for more information about BTL 40 and our other geomembrane containment systems for your next project.
Aqua

Armor Pond Liner

The most versatile liner on the market today,

Aqua

Armor maximizes protection from harmful UV rays, tear resistance and punctures that cause leaks. Simply the best liner on the market.
Newest Articles: