Lower the Amount of Suspended Solids with Silt Curtains in Mining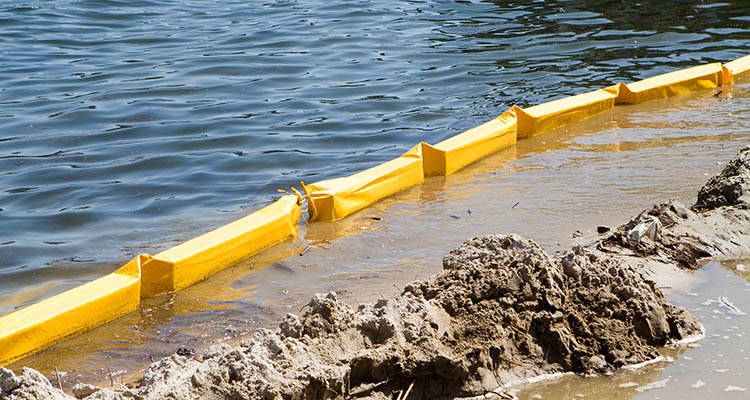 Silt curtains can be used in a variety of applications to control sediment in water operations. From dredging to mining to controlling toxic algae, silt curtains can be used to prevent environmental and financial consequences. Silt curtains knock sediment that hits them to the floor. Floating silt curtains can help lower Total Suspended Solids (TSS) and keep worksites in compliance. Silt curtains have many benefits in mining applications when sediment control is necessary.
Silt Curtains for Mining
Silt curtains aren't designed to dam turbid water, but rather to assist in dispersion of the sediment-rich water and allow for settlement. In mining, tailing dams and settling ponds pose a potential risk for silt and sediment to migrate to environmentally sensitive areas. Silt curtains play a large role in preventing this from happening and causing problems throughout the operation. In mining, silt curtains are used for:
Reduce the amount of suspended solid in mine tailings dams
Screening mine tailing overflow
Sediment control and runoff
It's important to know what kinds of materials and sediment will be suspended during mining operations. By identifying the types of sediment and materials that will be released during the mining process, you can identify potentially toxic materials. Both heavy metals and nutrients can be released in the turbidity cloud during mining operations and could be released into the water column. Silt curtains help knock sediment to the ground floor during mining operations. The turbidity cloud leaves lingering sediment in tailing dams. Mining tailings occur after the separation of valuable material from uneconomic material during the mining process. These curtains are used to reduce the amount of suspended sediment in tailing ponds and dams. Contact BTL Liners for more information about silt and turbidity curtains made from reinforced polyethylene (RPE). RPE silt curtains can be used in mining operations to control sediment and reduce the number of suspended solids in mine tailing dams.
Aqua

Armor Pond Liner

The most versatile liner on the market today,

Aqua

Armor maximizes protection from harmful UV rays, tear resistance and punctures that cause leaks. Simply the best liner on the market.
Newest Articles: