Technical Advisory for Geomembrane Containment Installation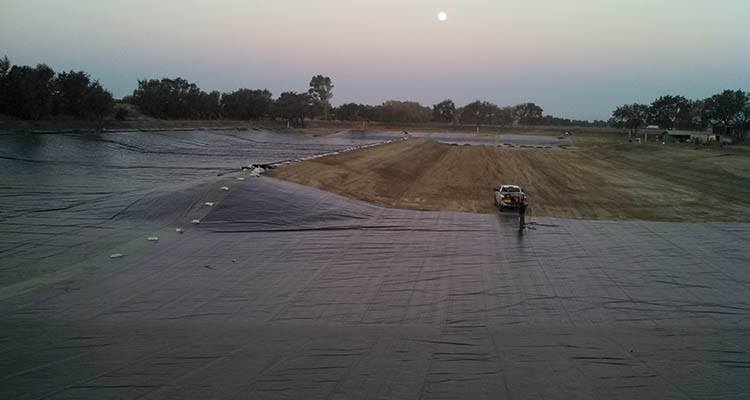 In addition to fabricating liners, tarps and covers, BTL Liners also offers technical advisory services for geomembrane containment installation. That means, not only can BTL manufacture the liners for your large projects, we can also come to your jobsite and help your team with the installation process in a technical advisory role.
Geomembrane Containment Installation
As a technical advisor on your project, BTL sends technicians to your jobsite where your labor and equipment is used, but we do all of the technical welding. Our team members hold the
International Association of Geosynthetic Installers
' (IAGI) Certified Welding Technician (CWT) certification. This program certifies that our technicians possess the skills, knowledge and experience necessary to do the welding on a geomembrane containment installation job. At BTL, we have completed geomembrane containment installations all over the world in a variety of industries and applications. Our CWTs have provided their expertise and skill on everything from our record breaking irrigation reservoir installation that was finished in four days and covered 40 acres to insulated frac tank floating covers and more. With experience in many different industries and applications, BTL is the best choice for technical advisory in geomembrane containment installation all over the world. When it comes to reinforced polyethylene (RPE) liners, we've fabricated and installed more of these projects than any other company in the world. Our expertise in the details associated with this material makes us the perfect technical advisors for your next geomembrane containment installation project. As technical advisors, we'll provide your team with the information necessary, give advice and ensure the installation happens as it should. Because our liners can be fabricated in sections in excess of 150,000 square feet, it takes a capable and educated team to oversee the geomembrane containment installation. From agriculture to energy to environmental applications, BTL Liners provides the technical advisory necessary to complete any geomembrane containment installation project. Contact BTL to learn more about hiring us to be your technical advisors on your next large project.
Aqua

Armor Pond Liner

The most versatile liner on the market today,

Aqua

Armor maximizes protection from harmful UV rays, tear resistance and punctures that cause leaks. Simply the best liner on the market.
Newest Articles: