Truck and Trailer Tarps to Withstand Strong Winds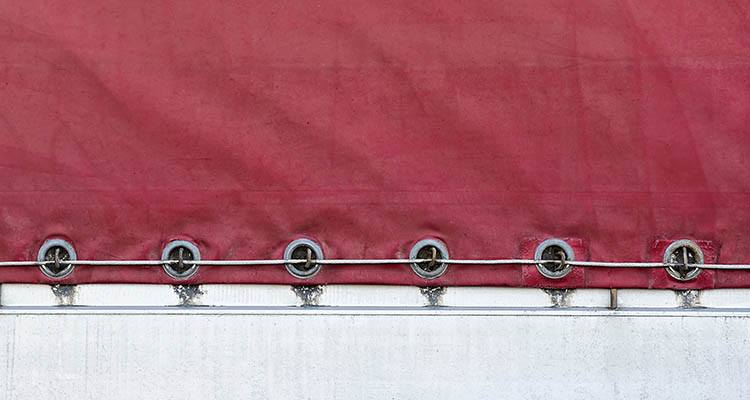 When it comes to choosing truck and trailer tarps, durability during wind whip is essential. The safety of the load on your trucks and that of the other motorists on the road depends on properly and securely fastened truck and trailer tarps. While traveling at higher speeds and during storms, wind whip can cause trucks to tip and crash, as well as for tarps to loosen and freight to breakaway from the load. It's important to choose truck and trailer tarps that can withstand extreme wind whip and weather. Trucking in windy conditions is a reality for all truckers, no matter the climate. From warm, fair weather areas to tornado country to snowy mountains, wind whip is a real challenge for truckers of all skill levels. Wind whip occurs when wind blows strongly, either in gusts of continuously. Wind whip can also describe how other elements are affected by the wind. The wind can whip the rain and snow in different directions and at different angles making it more difficult for truckers to anticipate and navigate.
Truck and Trailer Tarps in the Wind
It doesn't matter what speed you're traveling, if a strong enough crosswind hits your truck while driving it can tip the vehicle and your entire load. In this instance it's necessary to make sure your load is firmly covered and bound by strong truck and trail tarps in order to protect the load and the people and environment around you. Any tarp used for trucking and driving in the wind should be able to withstand wind whip. The most common types of truck and trailer tarps are made from reinforced polyethylene (RPE) or vinyl, as they are durable and waterproof. The tarp itself should have strong grommets hemmed along the edges, drops long enough to properly fit your load, be it lumber, steel, or anything else transported by semi truck, and include large D-rings. Fasten tarps properly in order to get the most effectiveness out of them. BTL manufactures custom and stock truck and trailer tarps that are strong enough to withstand wind whip and all weather conditions when applied correctly. Contact us for more information or to place an order for your set of truck and trailer tarps today.
Aqua

Armor Pond Liner

The most versatile liner on the market today,

Aqua

Armor maximizes protection from harmful UV rays, tear resistance and punctures that cause leaks. Simply the best liner on the market.
Newest Articles: