Fresh Water Irrigation Needs of Northwest Blueberry Producers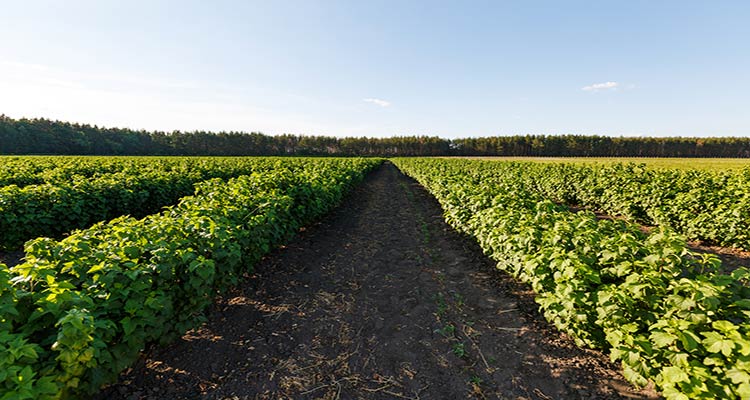 The Pacific Northwest is well-known for its blueberry production. According to a 2014 report by US Department of Agriculture, Washington state was the nation's largest producer of cultivated, or highbush, blueberries with 96.1 million pounds, a new production record, with Oregon following close behind. The United States is the world's leading blueberry grower, producing 262,539 tons annually. A massive crop of fresh blueberries is great news for Americans who have increasingly become aware of the advantages of buying fresh, local foods. Blueberries contain high levels of beneficial antioxidants, which keep our bodies healthy and prevent diseases. High in vitamin A, vitamin C, vitamin K, and manganese and containing 3.6 grams of fiber per serving, it's no wonder they're known as a superfruit. The fruit's juicy sweetness and a rise in nutritional interest across the country have caused blueberry production needs to skyrocket over the last few years.
Water Irrigation for Healthy Blueberries
Growing blueberries comes with unique challenges. Water irrigation is essential for growing healthy blueberry plants. Blueberry bushes have shallow root systems, making them very sensitive to water fluctuation. As a result, it's imperative to maintain most, well-drained soil at all times. While blueberries require plenty of water to thrive, excessive amounts or waterlogged soils can lead to root disease. That's where water irrigation comes in.
Geomembrane Liners and Water Irrigation
As water sources become more scarce, geomembranes provide a cost-effective method to preserve water and help produce healthy blueberry costs in the Pacific Northwest. Conserving water and protecting groundwater from animal waste and chemical runoff with BTL Liners' geomembrane liners is critical for blueberry growth. Benefits of Geomembrane Liners Secure water containment: Geomembranes have extremely low permeability and are highly resistant to UV rays and elevated temperatures. Improved water quality control: Geomembranes ensure that the water used on your blueberry plants stays clean and uncontaminated. Disease control: Geomembrane liners can help prevent the occurrence of disease among blueberry crops by quickly being cleaned, disinfected and reused to optimize harvest seasons.
BTL Liners Supports American Growers
As an American company and a veteran-owned business, we believe in supporting U.S. agriculture. With 2.2 million farms in the country, we know how important agriculture is to our nation. Our lining systems are manufactured for long life, easy repair, and low installation and maintenance costs to make water irrigation for your crops clean, safe, and efficient. Our geomembrane liners are used by blueberry producers across the country for increasing the health of blueberry bushes and controlling operating costs. Don't lose any more valuable crop due to wet weather conditions or inadequate cover tarps. BTL Liners wants to help you meet all of your agricultural containment needs by protecting your investment. That's why we pride ourselves on crafting outstanding custom-built custom tarps, round bale covers, silage covers, hay covers, and grain covers, and more. We can provide several custom options for your tarps and covers, including reinforced hems, grommets, D-rings, and the boxing of your tarp to fit your needs. Our heavy-duty reinforced tarps will last for years, and they are available in a variety of popular colors for all your growing needs.
Aqua

Armor Pond Liner

The most versatile liner on the market today,

Aqua

Armor maximizes protection from harmful UV rays, tear resistance and punctures that cause leaks. Simply the best liner on the market.
Newest Articles: