What is www.bakkenoilservices.com?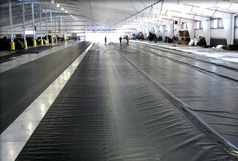 Question: I see that BTL Liners also has another website at www.bakkenoilservices.com. What's the difference between the two websites? Answer: Thank you for your question! We discuss a wide variety of projects including backyard ponds, golf course hazard liners, algae and fish farm liners, and hay and truck tarps. At the www.bakkenoilservices.com website, we focus on containment solutions for fresh water, produced water, flow back water, and frac water applications that support the oil and gas industry. BTL has had many years of experience working with the energy industry, starting in the early 1990s when we were sending liners to the North Slope in Alaska for National Oil Well's drilling pads. At the time, our product was revolutionary because it was thicker, stronger, and could be prefabricated and installed cost-effectively. Since then, we have continued to expand and innovate, culminating recently in both our move to an 84,000 square foot fabrication facility, and the introduction of our most recent product, the BTL-40—the only double scrim 40 mil polyethylene liner on the market. BTL's uncompromising quality is of vital importance to oil service companies as concern rises for the containment of spills/leaks of fracking fluid and by-products. Whether a business is using in-ground or above-ground moveable storage systems, our guaranteed containment and robust warranty policy allow our customers to work with confidence. Although our website it titled www.bakkenoilservices.com, we also service Marcellus, Eagle Ford, and other shale plays in North America. BTL is a recognized leader in reinforced polyethylene (RPE) products for the oil & gas industry.
Aqua

Armor Pond Liner

The most versatile liner on the market today,

Aqua

Armor maximizes protection from harmful UV rays, tear resistance and punctures that cause leaks. Simply the best liner on the market.
Newest Articles: