Why Work With BTL?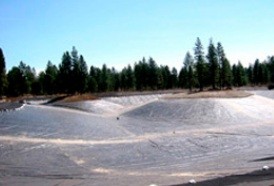 Question: We are considering the BTL-24 liner for our next containment project. Tell us why we should buy from you, as opposed to another company. Answer: You're obviously doing your homework, and that's commendable! BTL-24 is our flagship single-scrim 24-mil reinforced polyethylene liner material, and we consider it to be the finest available anywhere. BTL-24 possesses all of the qualities required in a liner used in the oil & gas arena (along with many other applications), including high-strength characteristics, excellent UV and chemical resistance, pliability and consistency. Due to BTL's large facilities, we are able to fabricate enormous liners within our factory, which is a tremendous advantage over liners that are assembled on-site with the potential challenges of wind, rain, snow, dirt, uneven welding surfaces, temperature extremes, etc. Our custom factory-fabricated liners have set the standards in an industry where safety and reliability are imperative. Another important reason to buy from BTL Liners is that all of our products come from materials produced entirely in North America. Many of our competitors use imported goods from Asian markets, but we firmly believe that jobs should be created and preserved here at home whenever possible. Many of our supplier relationships, such as the one we maintain with MAIWEAVE, have been sustained for up to 25 years! We work closely with our suppliers to develop BTL's proprietary products, including PPL-24—the world's first heavyweight reinforced polyethylene. Longstanding relationships mean that we can guarantee superior quality control, availability, and reliable pricing. Please contact us at 1-800-280-0712 with any questions about your project. We look forward to speaking with you!
Aqua

Armor Pond Liner

The most versatile liner on the market today,

Aqua

Armor maximizes protection from harmful UV rays, tear resistance and punctures that cause leaks. Simply the best liner on the market.
Newest Articles: