Greenhouse Covers and Options, A Comparison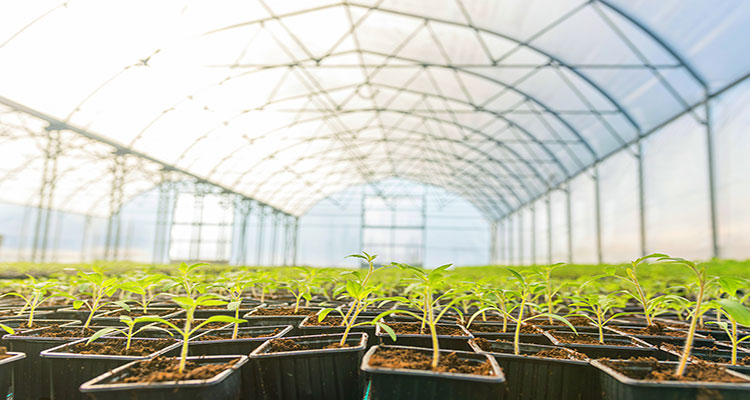 A greenhouse, once known as a glasshouse, is a structure typically made from a transparent material. The purpose of the greenhouse is to protect plants from climate conditions and diseases. This offers growers a customizable solution for cultivating plants year-round. Whether you're replacing an existing greenhouse cover or building a new greenhouse, finding the best fit for your unique project is essential. But what should you be looking for?
Greenhouse Glass
There's a reason why greenhouses were called glasshouses years ago. Greenhouses covered by glass have been used to warm fruits and vegetables while keeping them safe from winds, pests, and severe winters for centuries. Glass greenhouses are also effective at keeping humidity high for plants that require plenty of moisture. However, they've become less commonplace in recent years. In the 1960's, sheets of polyethylene were found to be more efficient and less expensive than greenhouse glass. Glass greenhouses today are more valued for their beauty than their functionality. The high heat transfer rate of glass allows cold temperatures to transfer through the glass easily, making glass the least efficient greenhouse option for retaining heat. Greenhouse glass is also the least durable choice. Harsh conditions like extreme wind can cause the glass to break, making these covering ineffectual, expensive, and time-consuming to replace. Glass greenhouses can also be dangerous in warm summer months on account of their high clarity. Letting too much light into your greenhouse can cause plants to overheat or even burn. As a result, glass greenhouses work best in cooler, overcast climates that require plenty of sunlight or situations where the look of your greenhouse is particularly important.
Polyethylene Greenhouse Covers
Greenhouse plastics help extend your growing season in climates that are too hot or too cold for glass greenhouses. The majority of today's greenhouses rely on polyethylene, which is scientifically superior to its glass and even plastic predecessors. Like greenhouse glass, polyethylene greenhouse covers help protect plants from pests, frost, and other extreme weather. Unlike glass, however, these covers won't break or shatter. Polyethylene plastic greenhouse covers are made of a thick, flexible material. They come in continuous sheets of various thickness, measured in mil. These covers can be used in either single or double layers for better insulation. Polyethylene covers are translucent, allowing them to diffuse light and bounce available sunlight to reduce shadows to aid plant growth. These covers reflect infrared light back into the greenhouse. Which is why polyethylene coverings are the most efficient greenhouse material for retaining heat. Plus you'll save on heating costs.
Greenhouse Covers from BTL Liners
BTL's 12-mil polyethylene plastic greenhouse covering is our most popular option. Thick, durable, and allowing for 85% UV transfer, our 12-mil option diffuses harsh rays of the sun while keeping heat inside, resulting in a bright and temperate greenhouse. BTL-12 is exceptionally durable and warrantied for five years. In warm summer months when the weather gets too hot, light can be filtered through the fabric. This ensures that plants receive the appropriate amount of light for shorter periods of time.
BTL Liners for Additional Agricultural Needs
Our team fabricates specialty geosynthetics and greenhouse plastics for a wide variety of gardening structures, including greenhouses, hoop house structures, raised garden beds, and wicking beds, based on your growing needs. In colder climates that typically can't grow through the winter, building a hoop house, a light dep hoop house, or a high tunnel greenhouse can help you increase your agricultural crop production. Small farms and small-scale urban agriculture can use raised garden beds or wicking beds since they require less water and space. BTL Liners offer several different styles and configurations for you to choose from, and our team is happy to supply custom covers for a wide variety of applications.
Aqua

Armor Pond Liner

The most versatile liner on the market today,

Aqua

Armor maximizes protection from harmful UV rays, tear resistance and punctures that cause leaks. Simply the best liner on the market.
Newest Articles: