Choosing the Right Pond Liner for Your Water Feature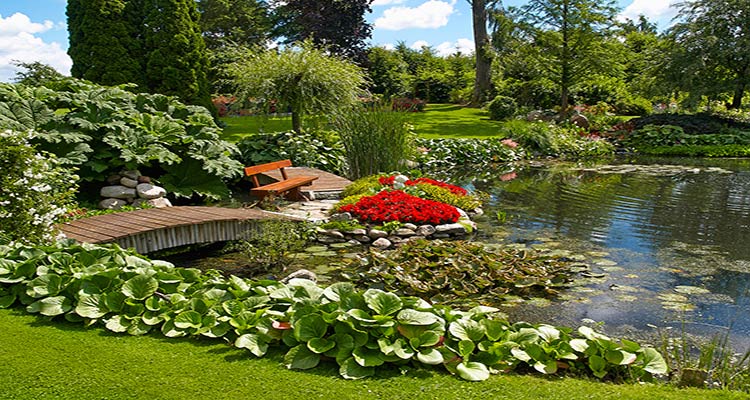 Water features and backyard sanctuaries are great accents to your backyard. When you are planning the landscape of your yard, adding an attractive water feature will increase the value of your property, and also brings a sense of calm and serenity to your space. BTL offers a variety of high-strength pond liners that are puncture resistant, UV protective, and are fish and plant friendly. We can help you choose the right pond liner for your water application.
Water Features and Backyard Waterfalls
Our pond liners serve a variety of purposes for recreation and residential applications. From fish ponds and backyard water sanctuaries to irrigation water containment and golf course water hazards, you'll be able to find the perfect pond liner with us. We have created and installed more woven-coated water liners for residential and recreation applications than anyone in the industry. With so many options of material out there, it can be confusing to decide which pond liner will work the best for your water feature. It is important to look for a pond liner that will protect the pond's wildlife with durability. We suggest our RPE and RPP liners because they are both fish and plant safe. These liners are durable and puncture-resistant, won't harm fish or plants, and are UV resistant. They are perfect for home and recreation ponds, and we can ship them anywhere throughout the country.
RPE and RPP Liners Compared
We believe RPE and RPP liners are the best lining material for your water application. Additionally, RPP and RPE liners do not require an underlayment pond liner — unlike PVC and EPDM, which always do. RPP and RPE pond liners are made with the most flexible and puncture-resistant materials, which is why they don't need an underlayment. If you need a large size, we can do that for you, since panels of this material can be welded together. These two options are lightweight, durable, and can last upwards of 40 years.
Custom Solutions for Your Water Feature
BTL Liners provides specialty geosynthetics and custom geomembrane solutions for your water application. We stand by our products while ensuring the best customer service. And we can even help you install your pond liner. If you are looking to install the pond liner on your own, find out
how to measure for a residential pond
application. BTL guarantees quality, availability, and reliability. Please
contact us
about your water feature project. We'd be happy to help.
Aqua

Armor Pond Liner

The most versatile liner on the market today,

Aqua

Armor maximizes protection from harmful UV rays, tear resistance and punctures that cause leaks. Simply the best liner on the market.
Newest Articles: