Landscape Materials You'll Need For Your Garden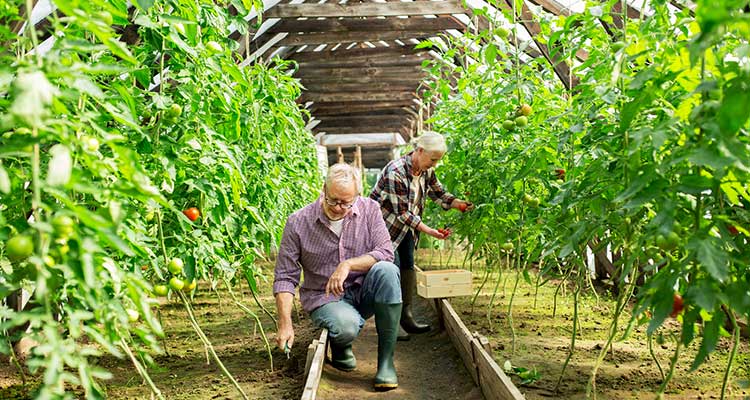 Whether you have a small urban garden or a large commercial garden, you'll need to put a landscaping plan in place. Even though technically plants don't need anything more than soil, sunshine, and water—it takes a little bit more than that to set your crops up for a successful growing season. As we prepare for the upcoming planting season, we've put together a guide of the landscape materials you'll need to get started.
Here Are the Landscape Materials You'll Need for Your Garden
Flooring
Flooring materials are often an afterthought when it comes to the layout of your garden—but they shouldn't be. You'll need to be able to walk between your growing areas to inspect the plants, weed them, and water them. As such, when you plan your growing areas, you'll also need to plan your walking (or weeding areas). Some of the materials most commonly used for ground cover are gravel, concrete, stone, brick, or wood. Gravel is perhaps one of the easiest to work with. Simply buy several bags of it from your local hardware store and lay it down where you'd like it to go. The downsides of using gravel are that you'll have to reapply it every so often as the old gravel washes away and becomes scattered by weather. Since it is loose, it can also wander into unintended areas. This can be difficult to maintain if you don't want gravel in other parts of your garden. Concrete, stone, or brick can be great options for paths and walkways. They are permanent paving options that will keep your garden neat and tidy. Concrete is the least expensive, and several growers have used it in unique ways. Try making concrete pavers and installing them as if they were stone or tile. Use grout, sandblasting, or gravel to fill the spaces between the pavers, stone, or brick that you have laid down in your garden.
Edging Materials
To separate your walkways from growing areas, and to keep the quality soils, fertilizers, and waters you use contained, edging materials can be used as ground separators, or to create raised garden beds. There are several options here to choose from though most growers opt to use lumber. Wood is the easiest to work with. It is inexpensive and can be cut to your exact specifications. Wood is purchasable from your local hardware store or you can use reclaimed wood from old barns, doors, or flooring and repurposed to use for edging your garden. Though wood is most commonly used as an edging material, this is also a good opportunity to get creative. If you have welding experience, metals may be a good edging option. It will certainly have a more sleek and modern look to it. Some people use stone or brick barriers to create a more rustic and natural look. Still others opt for things they have around the house. Clawfoot bathtubs, for example, make an excellent planter. They create a natural barrier, and they even have a drain!
Liners
Once you've edged out your planting areas, you'll need to line them with heavy duty polyethylene liners. This is especially important for
aquaponic farms
or
wicking or raised garden beds
. In both instances, the geomembrane material helps the growing space retain water and soil. This keeps the plants well watered and properly fertilized. This is also a good option for rooftop gardens or other planting areas that cannot drain directly into the earth. Apart from lining growing areas, geomembrane materials can also be used to
line ponds
,
harvest rainwater
, create
irrigation canals
, or
contain farm wastes
.
Covers
Finally, you'll need
tarps or covers
to protect your garden. If you wish to make one of your growing areas into a covered greenhouse,
woven greenhouse covers
can be used to extend your growing season into the colder months. Greenhouse covers are flexible, usable in a wide variety of configurations, and available in any size and shape. They can withstand any weather conditions and are light-efficient allowing 80%-87% UV transfer for the best sunlight even in the winter. You may also want covers to provide shade for your plants in the summer, or to
cover hay in the winter
. With ground cover, edged out planting areas, liners, and covers you'll have all the landscape materials you need for your urban farm or agricultural garden. Best of all, BTL Liners can help you with half of that. We make quality liners, tarps, and covers for every type of garden. And they're guaranteed to last for up to 25 years. Our materials are puncture-resistant, tear-resistant, and built to withstand any weather.
Contact us
for more information on our landscape materials or
buy them online
.
Aqua

Armor Pond Liner

The most versatile liner on the market today,

Aqua

Armor maximizes protection from harmful UV rays, tear resistance and punctures that cause leaks. Simply the best liner on the market.
Newest Articles: